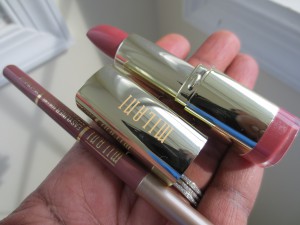 Milani Most Natural Lip Liner & Naturally Chic Color Statement Lipstick
It's been hard for me to find a nude-ish lip look that works for me. I love my brights for the eyes and even more for the lips. But I took a chance on a great formula (Milani Color Statement Lipsticks complete me!) that I know I love and a pinky nude color which I seem to be drawn to.
I like my nudes pinkish. This one isn't as pink as some of the others but it isn't too brown either. I love it. I lined and filled in my lips with Milani's Easyliner for lips in the shade Most Natural. I then filled in my lips with Naturally Chic lipstick. I love the moisture in Milani Color Statement lipsticks. They spread like butter:) They are a pleasure to wear and this combo is a winner for me! As a Mac NC50 (for reference) I love this nude combo! It's become a huge favorite in a very short time!