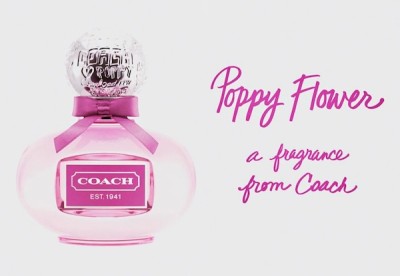 This is a fragrance that I found in my traditionally awkward "what are you wearing it smells so good" police detective kind of way. I tend to smell a scent I like on someone and immediately start asking questions about it. It's been fine for the most part but sometimes its awkward. I don't care really I just need to know because I have to file the info away and keep covertly smelling the person so I remember the fragrance. See told you it's awkward.
Coach Poppy Flower smells flowery and fresh. I love scents like that. There is a hint of fruit in there as well. I can't say enough good things about it. I got this recently but I think it will be in heavy rotation come Spring. It's not overpowering so I feel like its light enough not to annoy people around you but it will also make them wonder what you are wearing. It has a decent amount of staying power as well. I hate scents that smell amazing when you first spray them but are gone in an hour.
From Target.com:
Coach Poppy Flower is a charming and romantic parfume. The combination of juicy grapefruit, wet ivy, mandarin, jasmine petals, water lily, rose, amber make this fragrance happy and fun, yet sexy and sophisticated. So, next time you head out the door, add a spritz of Coach Poppy Flower it's a perfect, light, flowery, feminine fragrance for every occassion.
Check this one out! I think it's my favorite fragrance from Coach and I've smelled a few of them!