It's about time I reviewed this. I say that because I've been stalking this shade for months and looking at pictures of it. I knew I wanted to try this and I've heard many good things in the meantime about Gloss d'Armani. There are some great details on the technology behind this gloss on the Giorgio Armani Website. Here's what they've got on there:
Technology: Color-Fil Shine technology, with a translucent base that traps pigments and pearlescent particles for a hydrated, silky smooth feeling without any stickiness. Comfortable, stay-fast color is like a second skin that remains true for eight hours without fading or migrating.
Well I can tell you that the color payoff/pigmentation is off the charts. I would say that they have created a gloss with thickness but no stickiness. Usually thick lip gloss can't help but be sticky. Not the case here. This is some of the thickest lip gloss I've ever owned but it's not as sticky as say a Mac Lipglass. It's so thick I was worried that I'd hate it. It's comfortable though. But it just doesn't have that less than opaque thinness that I'm used to most lip glosses having. Most lip glosses give me a thin layer of glossy color whereas this delivers a thick coat of highly pigmented color. I think the end result looks like what I usually end up doing daily  which is putting on lipstick with a lip gloss on top.
In response to what they say on the website about it lasting eight hours…I call that bull$hit. No gloss lasts for eight hours on me. This lasts way longer than any other gloss but eight hours…no freakin way.
With #505 I prefer using a mirror to put it on so I can even it out. With one thin coat you aren't going to achieve the color in the tube. I had to do a good two coats to get that color. I'm ok with that because let's be real I'm not always going to want to have my lips look like this….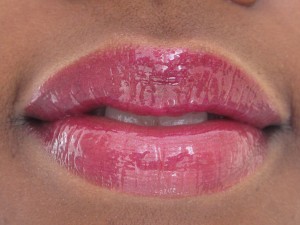 I'm going to want to tone it down most likely. This is a super glossy look. Please excuse my dry skin. I used something new on my skin and boy did it make my skin DRY and flaky. Grrrr. Anyway this gloss looks good and I love the long extended slanted doe applicator that comes in the tube. It's slanted so it's easy to pick up plenty of color on the applicator. At $28 each these are great glosses but pick a color you love because they don't come cheap!
Rated A