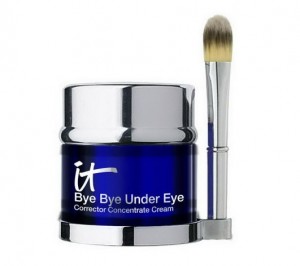 It Cosmetics Bye Bye Under Eye Corrector Concentrate, $38 at QVC.com
I love this stuff. It's hands down the best concealer that I've ever used and I have used a lot of different concealers out there! What makes it so amazing is that its like concealer and corrector in one. I've talked about this product in three videos on YouTube so far and the best way that I've described it so far is that it's like laying another eight hours of sleep down on my under eye area. Seriously I look like sleeping is my job. Not a dark circle or puffy area thats detectable. I need this to be available in a five gallon jug to dip my body in. Wouldn't that be nice?
The first time I put the product on I knew it was different. It's not too thick but like the name says its concentrated. You know that your using something that packs a punch something about the texture is different but good. I love the little brush that comes with the concealer. I use that daily. I don't need much product for my under eye area because where ever I place this concealer it goes right to work. It's moisturizing and very opaque. Kind of like the best under eye blanket that I've ever had! I wear the Rich shade which is the deepest one that they make. They also have a Light and Medium shade available as well.
Here is some information on the product from QVC:
What is it: Formulated with green coffee extract, niacin, hylauronic acid, peptides, cucumber, avocado, and hydrolyzed collagen, this full-coverage corrector offers the benefits of an antiaging skin care cream designed to address the appearance of under-eye issues, combined with full-coverage pigment to help reduce the appearance of darkness from view. Bye Bye Under Eye Corrector Concentrate Cream is formulated to make your skin appear younger-looking. The innovative formulation means it will not crease, crack, or settle into fine lines and wrinkles!
Who is it for: Anyone who wants the benefits of antiaging skin care designed to help reduce the appearance of under-eye issues, paired with the full-coverage, highly pigmented power of a color corrector. Anyone who wants to help conceal skin imperfections. Anyone looking for a totally flawless complexion!
Why is it different: Under-eye issues, including dark circles, shadows, and discoloration, disappear from view with this correcting cream formulated with antiaging ingredients. Full-coverage color pigments glide over the skin, smoothing away the appearance of imperfections. The ultra-lightweight formula gives full coverage, while the included stand and Bye Bye Under Eye Corrector Brush make it easy to achieve a flawless complexion!
How do I use it: Apply to clean, moisturized skin. Smooth onto skin by tapping in with your ring finger or blending in with the Bye Bye Under Eye Corrector Brush for flawless, full-coverage results. Bye Bye Under Eye Corrector Concentrate Cream can be worn alone or underneath makeup.
From IT Cosmetics.
Each shipment includes 0.17-fl oz Bye Bye Under Eye Corrector Concentrate Cream, Bye Bye Under Eye Corrector Brush, and stand.

Light: for fair to light skin tones

Medium: for light to medium skin tones

Rich: for tan to rich skin tones
I set the product that I place under my eyes with powder each day. I don't have to but it looks rather shiny later in the day if I don't. I use this on my other problem areas as well. It works wonderfully on my chin and forehead. I just tap a little in and I'm good. I do tend to use more under my eyes (my circles are dark!) but thats okay like I said this product is concentrated. For lighter coverage I tap it in and for full coverage I use a brush.
I'll tell you something that will let you know how much I love It Cosmetics Bye Bye Under Eye Corrector. After I started using it I couldn't stop. On days that I wasn't even wearing makeup I put this on. Which brings up another good point. This does look good alone on days when I'm not wearing a full face of makeup. There aren't many products that look nice without foundation or a BB Cream to make your face look natural.
Rich is a good skin tone match for me because I don't like that overly stark contrast between my under eye area and face. Just looking at it might make you think it doesn't work but this product blends beautifully. It doesn't look like too much and its not too little. But I think thats what a corrector does right? Blend and look like your skin or a better version of it.
I am so in love with this that I will never be without it. I have already checked and I can get it on auto-delivery on QVC which is exactly what I will do once I finish this container. It Cosmetics is also available on the Ulta website and some stores. You can purchase this for $29 at Ulta. The brush doesn't seem to come with it. You must try this! I've heard back from several YouTube viewers that have seen me talk about it and tried it-they are just as happy as I am. Check it out if you want to cover some issues. I am so glad I did!
I reviewed this product in The Chopping Block High End Edition Review video on YouTube and it made it into my Favorites From the Chopping Block Series video. Please take a look if you haven't yet: