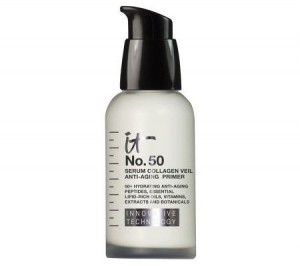 It Cosmetics No.50 Serum Anti-Aging Foundation Primer, $48
I don't know what they are drinking from the water coolers over at It Cosmetics but they are constantly thinking about ways to make me look better I know that for sure. This is the product that tipped me over the edge. These people really know what they are doing and I'm willing to give anything they make a chance because I haven't been disappointed yet. I like a well thought out product as well as a time saver and for me this is both. This is holy grail stuff y'all.
A primer is supposed to do a bunch of things but this one does everything. My skin loves it. My face drinks this up like there is no tomorrow. It's hydrating (in a good way for my combo skin self) and sets the stage for my skin to apply whatever I need to it. I even skipped moisturizer most of the time because No.50 was all I needed. Amazing.
From QVC.com:
What is it: A true beauty breakthrough, No. 50 Serum Anti-Aging Foundation Primer is a multitasking, luxe, concentrated, hydrating primer and serum in one, infused with beneficial ingredients to help nurture your skin and lock in moisture as it prepares it for flawless makeup application. Plus, the innovative formula is quickly absorbed to hydrate your skin without the greasy feel.
No. 50 also prepares your skin for makeup application all while defusing the appearance of visible pores and without settling into lines and wrinkles. Your skin will be pampered with a softening, smoothing, long-lasting barrier for the most flawless makeup application.
Who is it for: Anyone who wants the power to achieve your most beautiful skin ever! Anyone who is looking for antiaging benefits. Anyone who wants to instantly prime their skin. Anyone who wants to diffuse the appearance of lines and wrinkles on the face, and achieve a more radiant-looking, flawless, and supple complexion.
Why is it different: No. 50 Serum Anti-Aging Foundation Primer is a breakthrough in primer technology. The "50″ in the product's name refers to the formula's key ingredients, which include essential oils and butters, nourishing botanicals, fruit and plant-based extracts, plus powerful antioxidants and vitamins.
How do I use it: Apply No. 50 Serum Anti-Aging Foundation Primer onto clean skin, or over moisturizer, before makeup. Use either the pump or dropper; both are included. A small amount is sufficient for your entire face, neck, and under-eye area. Wait for the serum to dry before applying foundation. Can also be worn as a daily moisturizer, or over top of your night cream to maximize results while you sleep.
This primer sinks into the skin beautifully and leaves no color trace behind. I found myself using it on days I wasn't wearing makeup just because I really like the way my skin feels after application. My skin feels really nice with just the right amount of moisture. I think on QVC someone called it (in the on air presentation) a drink of water for your skin and I remember laughing but you know what thats exactly what it is!
I think this is a great product to get a sample of. It Cosmetics products are at Ulta now. I was in Ulta yesterday and got to see the display for the first time! Get a sample of this and after applying it you are going to see this is different. It's not like any of the primers in my stash because it's kind of like a skin care product to me. I've never had a primer that is this much of a multi-tasker. I mean I've never applied a primer to my neck but this…I do. This is right on time for me because during the Fall/Winter I need something that is less mattifying and more hydrating.
Check this out at QVC or Ulta. Another good thing is a little goes a long way. My 1 oz. bottle should last me a few months.
I reviewed the No.50 Serum in The Chopping Block-Reviews #8 video on YouTube. Check it out if you haven't already!