Jordana Twist & Shine Moisturizing Balm Stain-Tropical Frenzy #03, $2.99 at Walgreens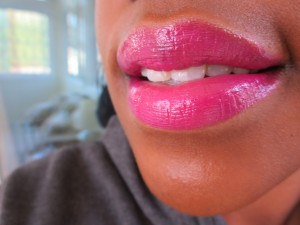 These balm stains from Jordana are something else. I showed you one of my favorite shades Cranberry Crush recently and next I thought I'd show you something bright and bold. Tropical Frenzy is a hard to ignore bright pink. It's something that is going to stand out but look great against so many skin tones. I find these balm stains to be easy to wear and a great value. The moisture is nice and pigmentation is just as good. They've mixed up the perfect balm cocktail at Jordana. And for $3 it's such a great value!
There isn't any noticeable smell or taste which is good. I reapply a few times a day. After big meals and a large coffee. It's so cold I find myself drinking coffee or tea all day….who's ready for Spring? I am!
Check these balm stains out if you like your color to stay put. I reapply for moisture but the color stays all day. I have two more shades to show you. I'll try to post them up this week.