Lancome has got a large collection of new lipsticks. I got a few shades weeks ago and I love them. The first one that I picked up is the color that I was instantly drawn to and its called Violette Coquette. It's bright and such a pretty color so if nothing else I knew I wanted to try this lipstick shade first!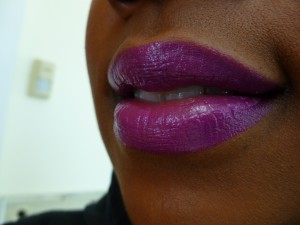 Violette Coquette is a deep almost eggplant like purple with a (surprise!) pretty pink shimmer. I was pleasantly surprised by the tiny pink glitter flecks infused in the shade. It's a really nice touch. There are over 20 shades available. Here is some information from the Lancome website on these new lip colors. They are organized into a few categories which is helpful if you are trying to decide whether you want something for the office or something that is for a night out.
Love your lips! Finally, the long wear lipcolor you'll love to wear. This collection of radiant, high potency colors, with up to 6 hours of wear, is surprisingly featherlight, offering delightful comfort.
Discover the lipcolor that describes you best and let your lipcolor show your mood, any time of the day.
Categorized in 3 moods:
Jolis Matins: Fresh shades for daytime wear. Jolis Matins shades are identified with the letter M in the shade number.
Boudoir Time: Pop shades for cocktail hour. Bourdoir Time shades are identified with the letter B in the shade number.
Tonight is My Night: Intense shades for magical nights. Tonight is My Night shades are identified with the letter N in the shade number.
At $25 a tube these lipsticks are beautifully packaged and worth the $$ in my opinion. They are comfortable to wear and with no smell or odd taste some of the best shades in my collection. My only issue is that on the box Lancome is promising six hour wear and thats a good 90 minutes short of what I'm getting out of this lipstick. They are long wearing and the color stays with you but this does not not equal SIX hours under normal everyday conditions. Few lipsticks do to be fair.
Check the Rouge In Love display on your next visit to the department store. I picked my colors up at Nordstrom but I have seen these at Neiman's also. After swatching all the pretty colors its going to be hard to leave without at least one.
Rated A- (six hours…not)