This is a fantastic idea, too bad in reality it doesn't work very well. This Double Extend Eye Illuminator from L'oreal is a two in one product to line and define on one end with a beautiful deep black sparkly eyeliner. Then brighten and illuminate on the other end with a white flat/matte color. Sounds interesting and convenient right? That's why I picked it up!
First off if you aren't familiar with this technique, using a white liner on the lower lash line can brighten up tired eyes. It's a great way to make your eyes look much more lively and even in my opinion younger. Also putting a little bit of color in the inner corners of your eyes helps most women look a little more bright-eyed too. So can you get all this from L'oreal's new Eye Illuminator. Well, sort of.
The black eye liner side is fantastic. Its smooth application is nice and it has just the right amount of glitter. It's tasteful and the glitter doesn't take away from the richness or depth of the black color. It isn't gritty or too thick in any way which is important especially in the eye area. Gritty products drive my contacts nuts. It's very well done. Now the other end. The illuminating white end is a nice flat/matte white color. Good for the lower lash line and in the corners but….it wont stay put for more than a few very short hours. It faded away on me in 2-3 hours.
Granted it's really hard for me to find a product that won't fade in my bottom/lower lash line. In fact I can name the products that will stay put down there on less than one hand. I was hoping that since the purpose of this brightening illuminator was to stay down in that area it would stay put. Well that's not the case. It fades beautifully, don't get me wrong. I just wish it wouldn't fade at all! I tried this over several days with the same results. It just doesn't stay put. It looks fantastic when first applied but a few hours later it just looks like any other liner would look like minus the illuminating white shade.
Too bad, I really wanted this to work because of the convenience and to be honest the economical price! For $10 I wanted this to be a great find. Oh well I still love the black glitter eye liner side:) I tried to catch the subtle glitter, here is my best effort.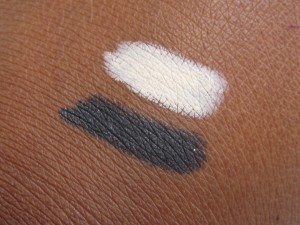 Rated C-
Disclosure: I purchased this item myself!