L'oreal Miracle Blur Oil Free, 1.18 oz./$19.99 at Walmart
I have been wanting to test this out for a while. I've seen the commercials and I've been so curious. Based on the box and advertising it should erase wrinkles, fine lines, and pores. I wasn't sure if this was a good fit for my skin. I don't have many pore issues but the idea of blurring things sounded great let me tell you. My mom ended up picking this up for me to review. She was curious about how this would work also!
I have the oil-free version. With combination skin I fear oil like most people fear dark alleys. I feel like if I get the regular version of things zits will happen. From the second I applied this I liked it. It spreads easily and sinks in really well. I found that for me applying this in a true t-zone formation was best. That means my forehead, nose, upper lip, and all the way down to my chin. I have dry cheeks this time of year so when I put Miracle Blur on my whole face my cheeks were not happy. My t-zone area loved it though. It helped my foundation stay put and the mattifying effect is really nice. This goes on clear in case you were wondering. I applied the product after a little moisturizer. I tried this with liquid foundations and powders. Both types of foundation applied fine without any issues.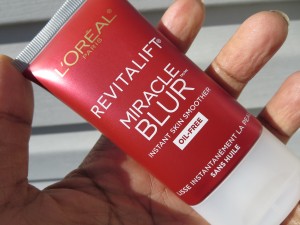 The other great thing during testing that worked well was wearing this on days that I didn't have makeup on. I loved the blurred effect it gave my forehead and nose. Those are the first places to show shine during a no makeup day. It kept the shine at bay woo hoo! I think at a little over 1 oz. this is a pricy drugstore product but depending on your needs it could totally be worth it. I can't speak to the effect this has on pores but I really like how it helps my makeup stay put and how it keeps me looking matte on non makeup days.
Have you tried Miracle Blur yet? Please tell us about it. I don't think this product is for everyone but for some it will quickly become the first step in makeup application after cleansing and moisturizing your skin.