Last week I did a comparison post on Blinged & Brilliant the gold-ish new shade for the holidays from L'oreal. But a few people asked me if Primped & Precious (the silver shade) looks similar to Liquid Diamond another Infallible that came out a few months ago. I'm glad to say it doesn't but here is some side by side proof!
First Primped & Precious is a true silver I'd say. Love it!
And here are the swatches of Primped & Precious (left) and Liquid Diamond. Liquid Diamond leans on the purple side to my eye.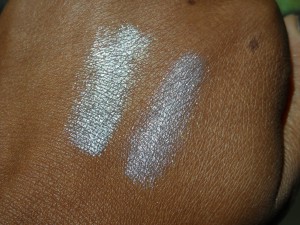 These are both beautiful it just depends in my opinion what you'd get the most use out of. I am going to wear Primped & Precious out on special occasions thats for sure. I love silvery eyes and a red lip with lots of black liquid liner. That says it's the holidays to me like nothing else! I picked up Primped & Precious at my local Bed Bath & Beyond (Harmons beauty section) in a display. Watch out for it if you love silver!