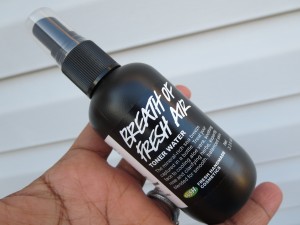 LUSH Breath of Fresh Air Toner, 3.3 oz./$9.95
Who doesn't love a breath of fresh air?
I don't often use toner but this is one my skin really loves! It's for all skin types and a spray a day keeps the stress away. It's gentle enough to cleanse/tone my face a little when used with a cotton ball and also add a little moisture boost to my drier chin and cheeks that drive me a bit crazy this time of year. It must be the aloe vera. My skin loves aloe!
I have been spraying this on my face after cleansing and before moisturizer. I usually do two quick sprays and then go over my face with a cotton ball and then slap on my moisturizer. It's drier now in this part of the country so I have to change things up a little. This is the perfect gentle toner for my skin because it doesn't suck any moisture out of my skin or create a problem in my oilier t-zone area. Both parts of my combination skin love this!
From the LUSH website:
Give your skin a new lease on life with a blend of ingredients inspired by the sea. Breath of Fresh Air is suitable for all skin types, but is particularly beneficial for faces that have been ravaged by the elements. A gentle spray refreshes you when you need it most and brings all the nutrients of the sea directly to your skin.
Fresh seawater gently cleanses, while carrageen (seaweed) extract softens and provides essential vitamins and minerals. And all the while, rose absolute and aloe vera are soothing dry areas.
Check this out if your in the market for a toner that won't give you any trouble! It also comes in a larger 8.4 oz. size that I might have to pick up to use this coming Summer. My smaller bottle will be gone by then and I want to try putting this in the refrigerator so I can spray my face on hot days. I love a little spritz in the face after using the powder foundations I tend to favor when it's hot.