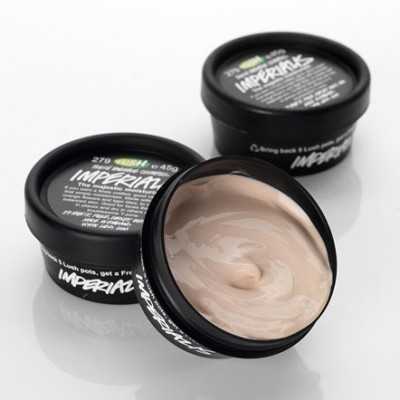 Lush Imperialis Moisturizer, 1.5 oz./$24.95
This time of year is hell on my skin. It's so confused and hard to deal with. My oilier (usually) t-zone is more normal and it takes longer for the oil to break through but the real hot mess area is my cheeks and chin. They are DRY. And will crack and turn gray on a dime. It's crazy. So I end up slapping a lot of moisturizer on and sometimes it works and sometimes it doesn't.
Lush moisturizers are really nice. I've tried Enzymion before and thats a great Lush moisturizer for me in the warmer months. But this time of year I'd have to be crazy to try it. My dry areas need so much help I had to work with something that would help my skin not crack!
I cracked (haha!) open Imperialis and I was worried. But things worked out just fine. When they say this moisturizer works on your dry areas as well as your oily ones they aren't kidding. Both parts of my face are happy. My oily t-zone stays moisturized but slick free and my dry skin areas don't freak out on me. I've been using this for a few months and it's fantastic. It's not an inexpensive moisturizer but I can tell you because of it's consistency that its going to last all through the drier months for me. I've got a few more months in my container left. I use this twice a day but I don't need much. It's not a thick product. The expiration date is for October of this year so since it was made in August you can really get some bang from your buck. If your skin has a split personality then look into this for some help!
Notice in the video below how messy this moisturizer can get around the sides of the container. Thats the only downside which is ok by me considering all the benefits.
From the Lush website:
Feel like your skin has a split personality? Balance oily T-zones with Imperialis.
Say goodbye to slick: Thanks to its lightweight texture, Imperialis absorbs easily upon application.
Refine visible pores: Tiger lily extract tightens the pores to keep dirt and oil out of blemish-prone skin.