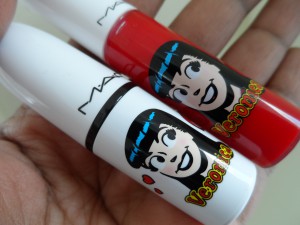 Mac Ronnie Red Lipstick & Strawberry Malt Lipglass ($16.50 each)
You know I love reds. This lipstick and gloss are just about perfect. I LOVE THEM. Ronnie Red is a comfortable to wear matte lipstick shade with just enough pink in it to be interesting. Make that perfect. This color is amazeballs! I don't know what they are putting in the Mac matte lipstick formula but I like it. I can wear this shade all day long (alone) and love it. It doesn't suck the moisture out of my lips and I don't need a balm to make it comfortable. Take a look.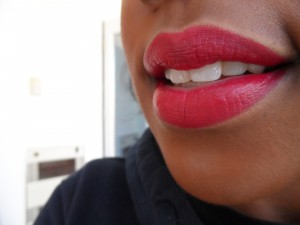 Ronnie Red Lipstick
If you missed the pretty pink red from the Mac Marilyn collection get this one! If you want to really amp this up use Strawberry Malt gloss along with it. It's straight up FIRE. I told you I'd wear Boyfriend Stealer & Feelin So Good when I'm getting my car worked on so I don't get conned but this combo I'm wearing when I want something…BAD. You can't say no to these lips sucka!
If your a red girl (and many of you are…) check out this duo! Like most reds you need a mirror to put this on but the extra time and effort is worth it! I can go many hours with Ronnie Red on alone and even more with this combo used together.