I love Mac matte lipsticks! They aren't drying in my opinion and the shades I've tried so far are richly pigmented and last on my lips. Heroine is a great purple shade that I knew I wanted from the Reel Sexy collection. I was worried it would be chalky since it is such a deep color but that wasn't a problem at all. In fact there is a nice non chalky finish on this shade that makes it not scream MATTE LIPSTICK when you look at it.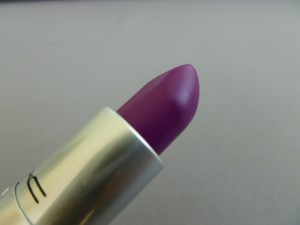 Such a pretty color! I have been getting a good 5 hours of wear out of this lipstick. I've used it a few times in the last week and I've got to say its addictive. Besides looking great it really is comfortable to wear throughout the day.
I thought I'd show you this pretty matte in comparison to some other shades that I have. I don't have many purple lipsticks. In fact in comparison to Heroine most of my shades are deep pink. But a recent purchase is the closest thing to Heroine it seems!
Mac Heroine, Rouge d'Armani #600, Tom Ford Violet Fatale, and Lancome Rouge in Love Violette Coquette #381
The difference between Heroine and Violette Coquette is the finish and shimmer. Violette Coquette has a satin finish and tiny pink sparkles in it. Heroine is pure purple goodness! It's also the least expensive shade at $14.50 in the line up above.
Please feel free to click on the names of the shades above if you'd like to see the full reviews or how they look on the lips. I love all of these colors and I'm glad to add Heroine to my stash.