I like brights. When I saw the QVC presentation for these lip sets on TV I took notice. One of Mally's models was wearing the Bright Pink combo and it practically was glowing at me through the screen. I added this to my shopping cart before they even got to the up close lip shots. If it glows, it's gonna be mine.
There are three sets available and they retail for $30 each. I got the Bright Pink.
From the QVC website:
Includes 0.009-oz Evercolor Shaping Lip Liner, 0.11-oz Evercolor Satin Lipstick, and 0.12-oz High Shine Liquid Lipstick
Classic Pink: includes warm pink shades
Soft Pink: includes nude pink shades
Bright Pink: includes cool pink shades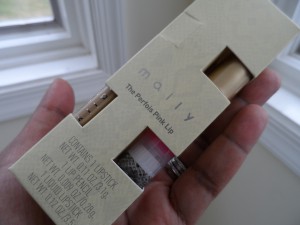 I must say the liner and lipstick are good but the lip gloss is GREAT. Check this out at QVC if you'd like to get your perfect pink. The Classic Pink and Soft Pink sets look great too. And they don't glow so if Bright Pink is too much for you and you don't like literally being a loud mouth (hee hee) check them out.