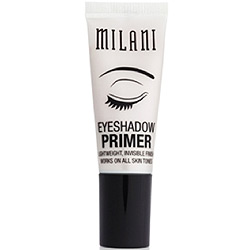 Milani Eyeshadow Primer, $6.49
I'm a big fan of this eye primer. I mentioned it in my Products That Help My Makeup Last All Day Youtube video last week. This is without a doubt my favorite drugstore eye primer.
It goes on smoothly and leaves very little color behind on my lids. The official wear time on the package is over 8 hrs but I can tell you personally if I put on my shadows at 7am with this primer-my lids are fine and my shadow looks freshly applied at 11pm. I don't have oily lids but I imagine this primer will be great at helping your shadows stay put as well or better than higher end $20 primers out there.
I use a tiny amount so it's important to note that you don't have to lather your lids with primer for this to work! A very slight color is left behind. Nothing serious though. I expect this tube to last a long time. And it goes without saying that the price cant be beat!