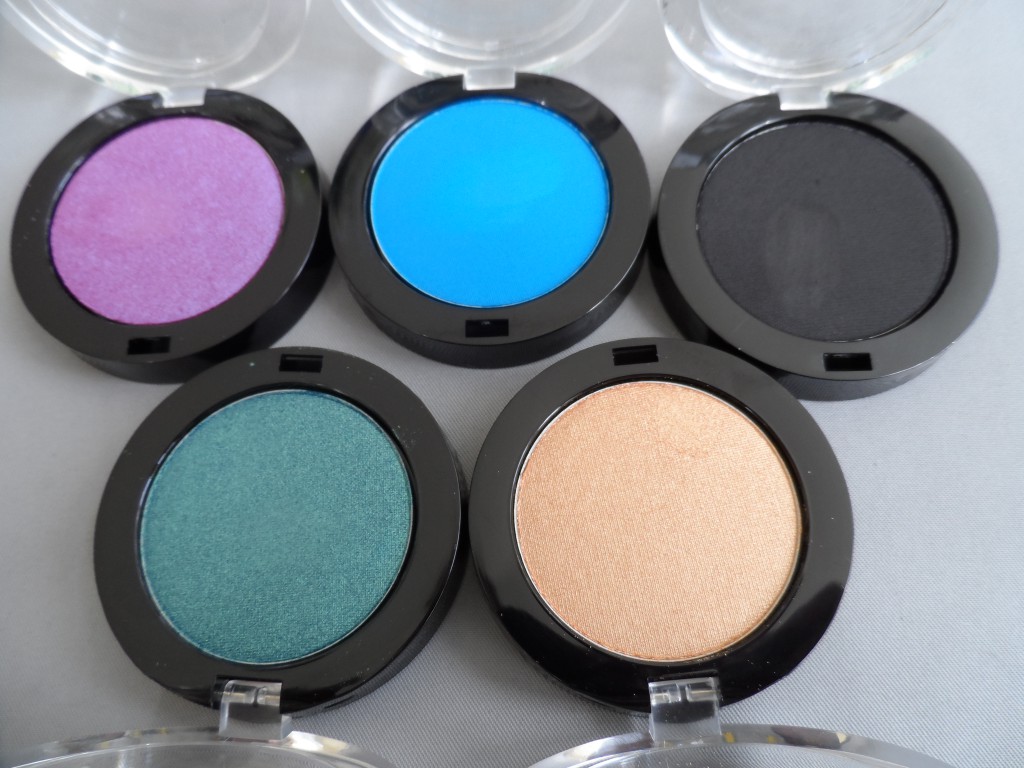 Purple Shock #07, Olympian Blue #08, and Pitch Black #02 (top row)
Just Perfect #12 and Gold Dust #10 (bottom row)
I was so excited when these came out but finding them was so hard! I think they might be a CVS exclusive and it took me a month to get them from a store near me. They were always out of stock. I finally picked them up recently and over the last week I have been testing them out and I love them. Besides being a decent size the pigmentation is just perfect. I love the matte shades a little more than the shimmers but thats because I am a matte eyeshadow lover to the core.
I wasn't able to pick up all the shades available. I got five colors though. I will be on the hunt for the others and stalking my local CVS! Here are some swatches….
Purple Shock, Olympian Blue, Pitch Black, Just Perfect, and Gold Dust (left to right)
Do you see what I mean about the matte shades? The Olympian Blue is AMAZING. The Pitch Black is also the best drugstore black I've ever come across. I paid $5.29 per shadow at CVS and I couldn't be happier with the quality and staying power of these shadows. I always use eye primer so these last all day on me beautifully. In the pictures above I swatched the colors without primer so you can see how richly and evenly the colors appear. Milani has created a lot of must have products in the last couple of years and this is another must have for your makeup stash!
Rated A