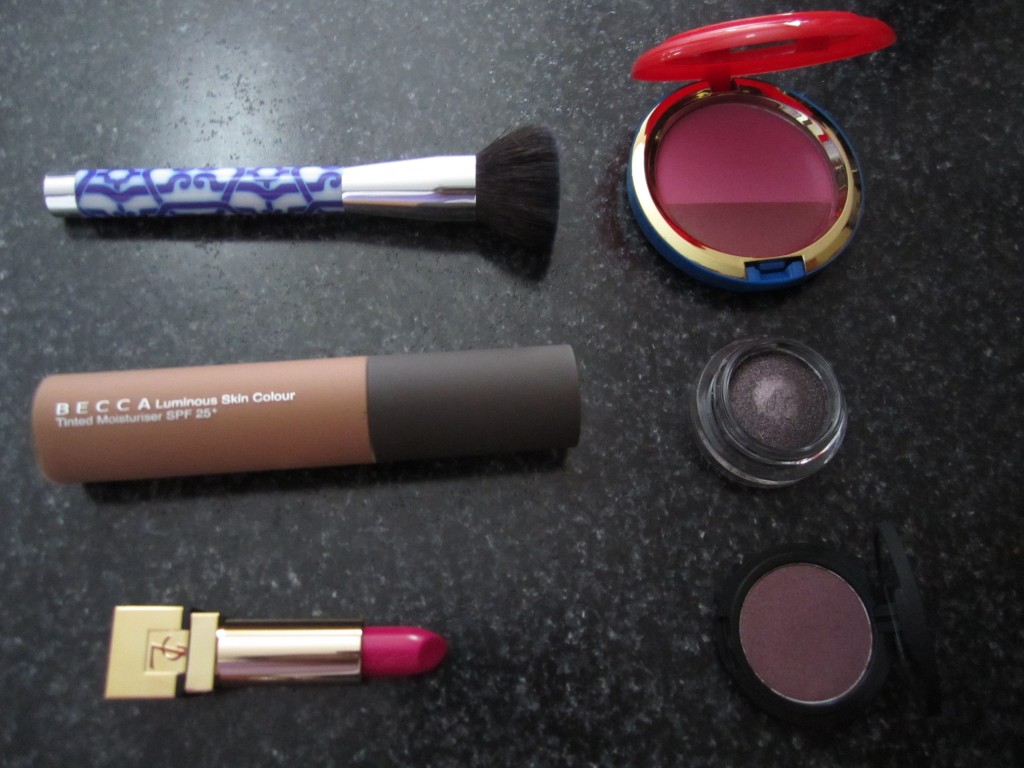 These poor items have been in heavy rotation this week. I thought I'd tell you about them and then maybe I'll stop reaching for them then? Well anyway, here we go!
Sonia Kashuk Multi Purpose Brush- I love Sonia K's brushes. So cute and great prices! I have a post about when I picked this up from Target here.
Becca Tinted Moisturizer in Cognac- I love this stuff, it's the best tinted moisturizer that I've ever tried. I reviewed it earlier this week but let me tell you I've been wearing it OUT since I got it. Check out the review here.
YSL Rouge Pur Couture #7- I haven't reviewed this yet. I did get totally caught up in testing it. It's super bright but feels good on the lips.
Mac Amazon Princess Blush- I love this blush, it's just about perfect. The Wonder Woman collection seems like it came out a lifetime ago but this blush is a great reminder. This is in a tight race with Mac Dollymix for my favorite Mac pink blush.
Chanel Illusion D'Ombre Eyeshadow #83 Illusoire- Sparkly purple overload. Let me tell you this is eye-catching. It's something else and I keep using it but haven't done the review. I'm just kind of wallowing in the fun I'm having using this.
Le Metier De Beaute Alexandrite Eyeshadow- I love this color. So pretty and the texture of this shadow (and all the single LMDB shadows I have) is what really makes it a favorite. I just put this all over my lid or with #83 Illusoire and I look like I really did something special with my eye look.
I'm going to be putting up reviews on the Chanel Illusion D'Ombre Eyeshadows and Le Metier De Beaute Eyeshadows that I got recently so there is more to come.
Is there anything that you can't stop using in your makeup routine?