Disco Biscuit (regular light and w/flash)
Want to see my Disco Biscuit? Ha! Couldn't help it sorry….Disco Biscuit is part of Butter London's Spring/Summer collection. It's a bright hot pink with lots of glitter. The glitter is mostly purple, green, and blue. It's such a fun color I had to try it!
You can pick it up for around $14 from Ulta or Nordstrom. But before you do let me tell you it's not a super easy color to work with. I used a China Glaze base coat, two coats of color, and then a top coat (Seche Vite) for my manicure. I used a base coat because many of you told me that this dries crazy odd and bumpy. For some reason the formula is overpowered by the glitter and leaves behind a textured bumpy finish. The base coat that I used helped keep the application smooth and the top coat further helped me to get a smooth-ish finish. So in order to get a finish that you can live with depending on how particular you are BREAK OUT YOUR BASE & TOP COAT with this one. That being said I love the end result!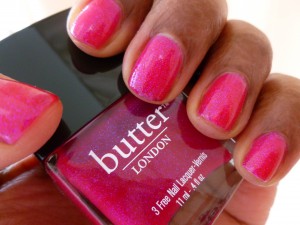 I am happy with this color and I just have to remember when I pull out Disco Biscuit in the future to use a base and top coat with it. I usually get a few days wear without chips w/Butter London polishes. I'll update this post if anything crazy happens with this color in the next few days.
Have you purchased any Butter London polishes that you like? I have a few good colors from them. Let me know if you have any favorites that I should try!