I know I'm late. This came out a while ago but I'm just cracking my bottle open!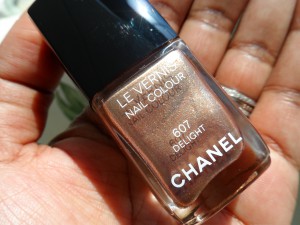 Not bad. I did a base coat, two coats of Delight, and a top coat. I find that with Chanel polishes it's a must to do a base coat and top coat. As much as I love Chanel polishes the staying power is iffy without a barrier below and on top of the actual polish. I get extra days wear if I do the right prep. I actually think the formula has gotten better from even a year ago. Maybe they are listening to all the complaints!
I love this shade a little better than Gold Fingers that came out a few months ago. I think I might skip the recently released Diwali shade. Chanel is going through a gold phase but I don't think I need them all.
Delight is still available on the Chanel website for $26 but I think it's limited edition so get it before its gone!