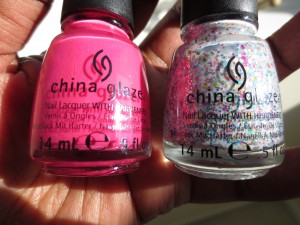 Escaping Reality and It's A Trap-eze!
It's time for a fun mani for the weekend! When it's cold and windy I think about Spring. And nothing says Spring more than bright pink and a little glitter. So today I pulled out Escaping Reality and It's A Trap-eze! from the Cirque du Soleil Worlds Away Collection that came out recently from China Glaze.
I used a base coat, two coats of color and a top coat. Looks neat huh? I love it! Check the Worlds Away collection out at Sally's or Ulta. There are some beautiful shades in the collection. I'll show you some other colors soon but get on it if you want It's A Trap-eze that one has sell out written all over it. It's so unique and pretty.
*press samples