I love purple! Part of the reason I was so excited about the Revlon Haute Rocks collection was Balinese Bay. I've never seen another polish quite like it. It dries matte but I put a top coat on everything so thats why in the pics below it has a glossy finish.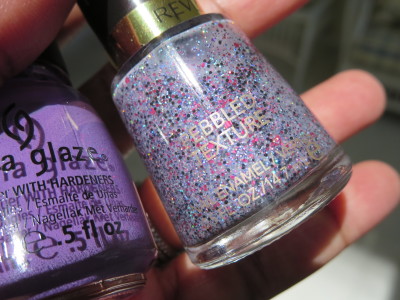 I did a base coat, two coats of China Glaze's Spontaneous or Balinese Bay, and a top coat. Actually make that two rounds of top coat. I wanted this mani to last! I go in for a second top coat layer to get my polish to stay perfect for a good week or so.
Make sure you check out the Revlon Haute Rocks collection it's limited edition and in most stores now. I picked Balinese Bay up at Bed Bath & Beyond but I've seen the collection at Walgreens also.