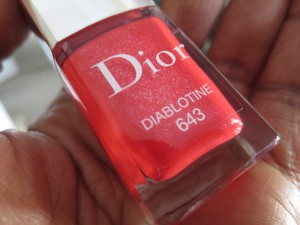 Dior Diablotine #643, $24 at Nordstrom
I love Dior polishes! They last a week on me which is fantastic. I saw this new shade and wanted it right away. It's a pretty shimmery coral which is perfect for this time of year. I used a base coat, two coats of Diablotine, and a top coat. You really can get away with one coat of color if you are in a hurry. That's another reason I love Dior polishes. They are opaque and pretty on the first coat!
Check this out at Nordstrom and Neiman's if you want a little coral Spring bling on your nails!