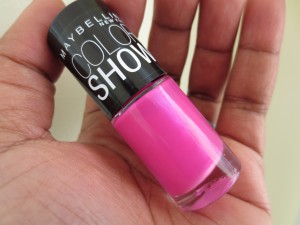 Maybelline Color Show Mesmerizing Magenta, $2.99 at Bed Bath & Beyond
I had to show you this one before it sells out! This is a limited edition shade from the Maybelline Color Show line thats perfect for Spring/Summer. This is a cute bright pink that has a little frosty kick to it.
I think this is going on my toes thats for sure! Do you do the annual Spring pedi? I hate pedicures and love them. I have ticklish feet. It's so embarrassing. I laugh like an idiot (and try to hide that I'm giggling) when they massage my feet. So I go to get my feet done each May and I might go back mid Summer for a touch up but basically I take care of my feet myself. Hey I don't giggle when I touch my own feet lol!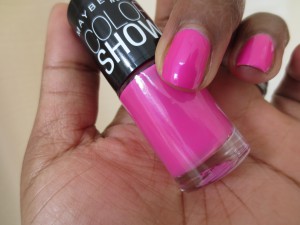 I used a base coat, two coats of color, and a top coat! I get a lot of wear out of Color Show shades. They last well (a week easily) and are a great investment in my opinion.
Check this color out at the drugstore before its gone!