I love blue nail polish. Any kind of blue. It's a sickness. I am drawn to it like purple eyeshadow and pink lipstick. It's one of my favorite things. So today I decided to use Orly Royal Navy w/my new purchase from the latest China Glaze Collection Liquid Crystal. No jokes please…why name anything Crystal lol?
It's hard to see the sparkle but Royal Navy has a pretty shimmer to it. What a color!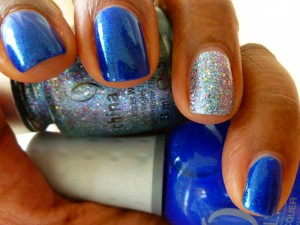 I did two coats of Royal Navy and two coats of Liquid Crystal on my ring finger. I topped all my nails off with Seche Vite top coat. I've been doing lots of coral, pink, and dark shades lately so this is a fun change up!