Sally Hansen Mermaid's Tale, $8.49 at CVS
I had to pick this one up! It was calling me from the bottle when I saw it at CVS. Nail polish doesn't talk to you in stores? Maybe I need mental help! Anyway this color is beautiful and it wasn't hard to use. The first coat was not that great but the second went on like a dream. I really like the brush wand in the Complete Salon Manicure line. It's just the right size. The wand is everything when working with a glitter polish like this.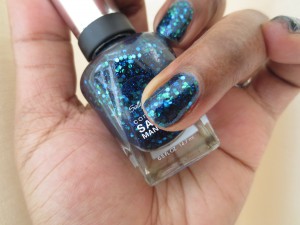 I used a base coat, two coats of Mermaid's Tale, and a top coat. Just beautiful! I would highly recommend this polish. Especially since it looks like a dupe of a premium brand polish I had my eye on!