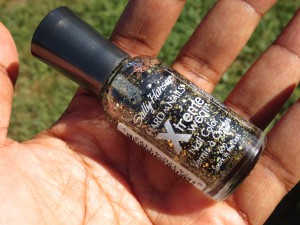 Sally Hansen Xtreme Wear Spark in the Dark #600, $2.79 at Walgreens
I was so excited when I saw a display with new Sally Hansen Xtreme Wear shades! I have so many pretty Xtreme Wear shades and I've posted them all in NOTD posts. The colors from this new release are so pretty and fun. I picked up Spark in the Dark because it had a mix of black and gold and so many different things like bar glitter and glitter dots of all sizes. There is a lot going on inside of this little bottle! I found the texture (in my bottle anyway) to be kind of thick on this polish. I've never used an Xtreme Wear shade that was so thick! And take a look at how much polish I used after two coats in the bottle above. That's a lot!
I used my Seche Vite Base Coat, two coats of Spark in the Dark, and I finished up with the Seche Vite Dry Fast Top Coat.
I think if I had time for a third coat I'd get a different finish. A lot more glitter and confetti! I'm happy with my two coats since I prefer a look like this but I know its not everyone's favorite. I will say that even though I felt the polish was kind of thick it dried normally.
I had to trim the heck out of my nails. I love it when they get longer but it seems like they get to a certain point and they just start breaking. I hate that! If you'd like to see all of the new colors in the Walgreens display please check out the VLOG video below and the Sally Hansen part starts at around the 1:45 mark in the video.