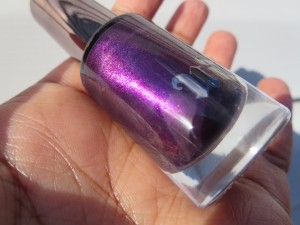 Urban Decay Vice Nail Polish, $15 at Ulta
I'm not super familiar with Urban Decay Nail Polish but this color was something that I really wanted to try! It's a gorgeous deep purple with really pretty flecks of color. I'm shocked that I actually captured those pretty flecks in some of the pictures that I took. Yay me! You might have to blow up the following pics to see the pink & blue flecks of color in the polish. All that pretty glitter makes Vice a pretty shade to try and add to my stash!
I don't have anything quite like this in my collection. It's such a bright yet deep purple depending on the light. I used a base coat, two coats of Vice, and a top coat. I couldn't be happier with this beautiful color. It's limited edition so if your interested in getting this or the other shade that was released for Fall called Addiction get them fast. I already wish Urban Decay had more full sized shades like this available. I hope they come out with a deep dark green like Loaded which is my favorite eyeshadow shade from them! That would be amazing.