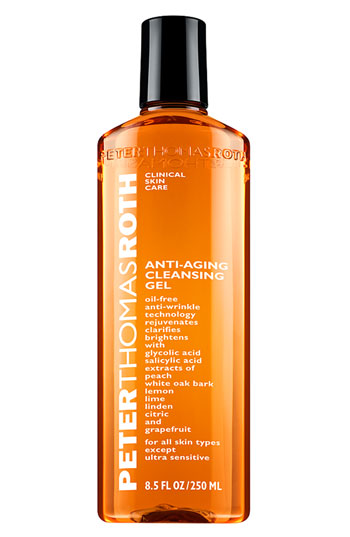 Peter Thomas Roth Anti-Aging Cleansing Gel, $35/8.5 oz. at Sephora
I love this cleanser! Everything about it works for me. The scent, the effective yet quick cleansing action, and the way my skin feels after using this is spot on. I don't know why I didn't pick this up sooner!
It smells like peaches-ummm thats only my favorite smell ever! I was over the moon from the very first sniff. I have combination skin so I was worried about how this would work on me. I've shifted to cleansing with creamier cleansers as of late. I've found that with my combination skin I need products that work on both my drier areas and oilier ones which is a tough task. This cleanser works on both areas just fine. My skin feels really nice and supple after cleansing. Just how I like it!
From Sephora's website:
What it is:
A luxurious, antiaging facial cleansing gel that provides an exhilarating, peachy clean freshness for a beautiful, more youthful-looking complexion.
What it is formulated to do:
Oil-free, anti-wrinkle technology helps to clarify and brighten with glycolic acid, salicylic acid, extracts of peach, white oak bark, lemon, lime, linden, grapefruit, and arginine. An advanced deep pore resurfacing action supports natural cell turnover to help diminish the appearance of fine lines, wrinkles, and other signs of aging. It helps to effectively detoxify the pores, dissolve makeup, emulsify oil, and improve skin texture as it gently sweeps away dead skin cells and impurities that can make the complexion appear dull. Ideal for all skin types except sensitive skin, including dry, sun damaged, normal, combination, oily, and acne prone skin, this gel produces an ultraclean, refined, and revitalized complexion.
What it is formulated WITHOUT:
- Phthalates
Research results:
In a 4-week consumer efficacy study on 25 women:
- 96% agreed their skin appeared brighter
- 92% agreed they appeared more youthful
- 88% agreed this product delivered antiaging benefits
I used this in the morning and evening. At night I remove my makeup with cleansing oil first then I wash my face with this gel. What I like is that you need a tiny amount of product and the peachy scent is sooo good. Did I mention that? So after cleansing my skin feels balanced. Meaning my oily areas and drier areas feel the same. Just moisturized enough to be comfortable. I don't get that tight feeling (which I hate!) or a greasy overly moisturized face. This stuff is just about perfect.
If you don't have combo skin thats okay but here's some information about usage from the Sephora website as well. Those with very sensitive skin should skip using this most likely. There is alpha hydroxy acid in the cleanser so if you can't tolerate that this might not be a fit for you. Also worth noting is that if you are using Retin-A this might not be a good fit either!
Suggested Usage:
-Combination, oily, and acne prone skin, use once or twice daily.
-Normal, dry, and sun damaged skin, use two to three times a week at first, increasing usage if well-tolerated.
-Apply a small amount of cleansing gel over moistened skin with the fingertips.
-Work into a rich, foamy lather and massage gently for one minute.
-Rinse thoroughly with lukewarm water and gently pat dry.
-Follow with PTR treatment product, moisturizer, and sun protection.
-Not recommended for very sensitive skin, eczema, seborrhea, rosacea, or Retin-A® users.
Precautions:
-Sunburn alert: This product contains an alpha hydroxy acid (AHA) that may increase your skin's sensitivity to the sun and particularly the possibility of sunburn. Use a sunscreen, wear protective clothing, and limit sun exposure while using this product and for a week afterwards.
The good news is if you don't want to get a large bottle of this there are a lot of smaller try it out sets available. Sephora has an Age Defense Kit for $56 and they have the cleanser and a bunch of other products to try out from PTR. There is also a Cucumber Detox Kit for $45-thats on QVC's site as well. And if you want a large 8.5 oz. cleanser you can get the 20th Anniversary Kit for $35 and get some sample size products as well as a big cleanser bottle. On QVC there is a Customer Choice 6 Piece Kit for $40 that I got and its fabulous! I love trying smaller sizes and figuring out which products work for me. I highly recommend it.
Let me know if you've tried this cleaser out. I'd love to hear your thoughts.