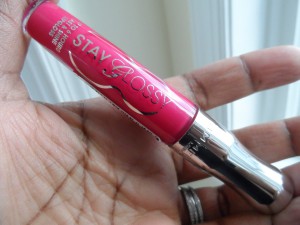 Stay Glossy Fuchsia Fever Lip Gloss ($5, Ulta)
Do you love gloss? Well you have to try this!
I have been hearing about Stay Glossy lip colors from Rimmel for a while. I've seen them used in YouTube videos but hadn't tried them myself. Now that I have I see what the fuss is all about. The color and pigmentation is amazing and the moisturization and glossy color is fantastic! I am beyond pleased.
Check out the applicator.
While testing this out I only found two issues. This gloss smells odd. It's a chemical like scent that I try not to hard to think about. Maybe it's just my tube? Ugghhh its a nasty scent let me tell you. The other thing is that I need a mirror for this. The color is really pretty and the texture of the gloss is thick. Because of the thickness I need to see how it looks in the mirror to make sure the color spreads out evenly. It's not a big deal especially since this gloss lasts and looks great longer than many higher priced glosses on the market. If you aren't a fan of sticky glosses you might want to sample this first if possible. I find the thickness to be a plus when it comes to wear time but your hair may find a new home on your lips with that very same thickness.
The tube says up to six hours and I don't know if I'd go that far but I will say Fuchsia Fever stays super glossy for far longer than most of my favorite glosses in my stash. I think for $5 these are a must try.
There are almost twenty shades available so something for everyone! Get one of these in a color you love. I can't think of a better way to spend $5 at the store.