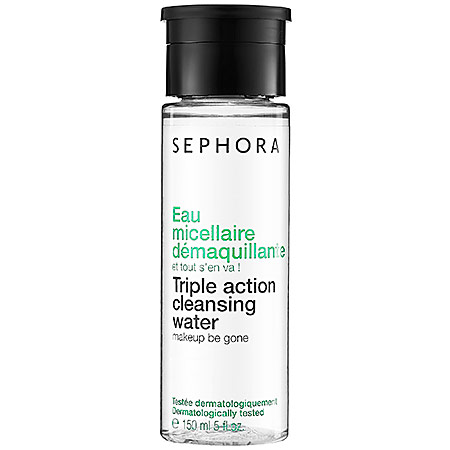 Sephora Triple Action Cleansing Water 5 oz., $12
I love cleansing waters. I've tried a few in the past and loved them! The ones that I've tried were over $30 each and I have used them sparingly. I wanted to pick up something that was cheaper but just as good as the products I've tried from the department store. I dream big don't I? Well I heard great things about Sephora's line of products. I tried the Cleansing Oil from Sephora (reviewed here) and then set my sights on the cleansing water. I am no expert on cleansing waters let me tell you but I know what I like….and it's not this!
This cleansing water does take my makeup off well enough, but the smell! I referenced this product in my recent September Favorites & Two Regrets YouTube video (it was one of the regrets!) as a punch in the face. The scent is so strong it's like getting hit with a bunch of flowers which normally I'd like but in a cleansing product….NO. The idea behind a cleansing water is that you don't have to wash your face afterward. Well with this I have to because I don't want a heavily scented product on my face overnight. This does get big points for being paraben free and sulfate free but again why throw all that scent in there if this is advertised as being safe for sensitive skin and eyes?
Check out the description below.
From Sephora.com:
What it is:
A no-rinse cleanser with a texture ideal for delicate skin.
What it is formulated to do:
This product cleanses the face and eyes effectively in one simple step. Dispensed from a bottle with a clever pump design, its soap-free formula features cleansing spheres that effectively capture and eliminate impurities and makeup. It also includes HydroSenn+, a natural ingredient proven to deliver immediate and long-lasting hydration more effectively than hyaluronic acid.
What it is formulated WITHOUT:
- Parabens
- Sulfates
- Phthalates
What else you need to know:
HydroSenn+ is a plant-derived ingredient that leaves skin feeling soft and luxuriously comfortable. This product is dermatologically- and ophthalmologically-tested. Suitable for sensitive skin, sensitive eyes, and contact lens wearers.
This product does do a decent job of removing my eye makeup. Without the scent issue I think I'd repurchase. I love the delivery system. The product is available in a larger size and wait let me show you the top. You can just push down with your cotton ball and soak up the cleansing water that you need. It's fantastic as far as that! I'm keeping the bottle for sure to use with other products.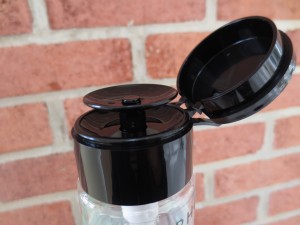 If your curious my favorites cleansing water wise are Lancome's Eau Fraiche Douceur and my number one fav is Bioderma Crealine H2O. I didn't like the Nars Makeup Removing Water much. I wouldn't get that again. Have you tried any of the Sephora face products? After trying two products I'm unsure what else to pick up and try out. If you have any suggestions let me know!