Fashion Sets Collection
Last month I did a rundown post on all of the pretty collections coming out from Mac in April. It's going to be a big month full of color and temptation. I can't wait. I wanted to make sure that if you are a Mac Cosmetics fan you are prepared. Please take a look at that post here if you haven't already. It's got all the info on four of the collections in detail. Yes I said four. Mac your outrageous!
Now the fifth one. I just scratched the surface on that one so I'll detail it here. I'm on the fence about this one. It's a Pro store release. But you can call a Pro store and order and they'll send the products to you in case you are interested. Nudes and Metallics are really tempting! Might be worth getting a blush at least! I might have to stalk this collection too!
Nudes & Metallics April 18 (Pro Stores Only)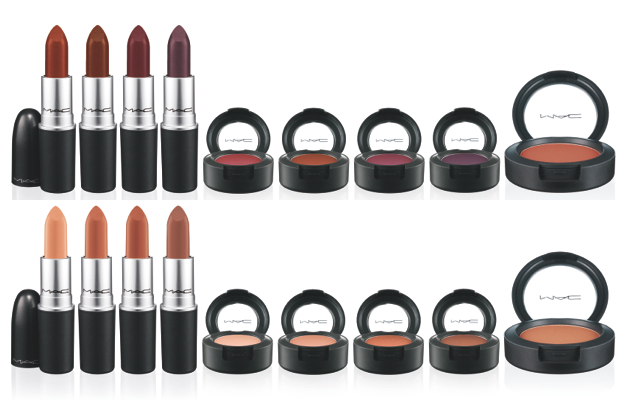 Nude Collection
Lipstick 15.00 US/18.00 CAD
Angel's Kiss – Sheer soft pinky nude with pearlized pigments (Amplified)
Wholesome – Sheer, warm mid-tone nude (Amplified)
Nearly Nude – Sheer, warm pink nude (Amplified)
Restrained – Sheer, neutral mid-tone nude (Amplified)
Eyeshadow 15.00 US/18.00 CAD
Bare Minimum – Sheer soft pinky nude with pearlized pigments (Satin)
Body Conscious – Sheer warm. mid-tone nude (Satin)
Glimpse of Flesh – Sheer warm pink nude (Satin)
Exposed – Sheer neutral mid-tone nude
Powder Blush 21.00 US/24.00 CAD
Barefoot – Mid-tone warm pink (Satin)
Metallic Collection
Lipstick 15.00 US/18.00 CAD
Show-All – Heavily metallic deep red (Frost)
Subverted – Metallic brown (Frost)
Pre-Raphaelite – Deep metallic mid-tone berry (Frost)
Dominate – Deep metallic purple (Frost)
Eyeshadow 15.00 US/18.00 CAD
Loves Lure – Metallic deep red (Veluxe Pearl)
Deep Fixation – Metallic brown (Veluxe Pearl)
Crimson Tryst – Deep metallic mid-tone berry (Veluxe Pearl)
Brazenly – Deep metallic purple (Veluxe Pearl)
Powder Blush 21.00 US/24.00 CAD
Stylish Me – Deep mid-tone mauve (Satin)