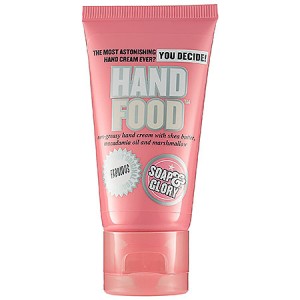 Soap & Glory Hand Food Hand Cream, 1.7oz/$5 at Sephora
I heard a lot of great things about this hand cream from Soap & Glory. I'm not really familiar with the brand but for $5 I am willing to try something that so many people seem to love. First off this smells great. It smells yummy enough to eat. I love anything that smells like food so this was an early win.
After the first few uses I could tell how well Hand Food works. All I really want from a hand cream is lots of moisture and for it to last through a few hand washings. I think its such a waste if you apply product and it disappears after you wash your hands. I want miracles some would say.
I don't know about you but I'm washing my hands all day long. It never stops so I need something that can hang. I don't want my alligator paws to show. They scare small children after all!
From the Sephora website:
What it is:
A non-greasy hand cream with shea butter, macadamia oil, and marshmallow.
What it does:
This hand cream softens, smooths, and soothes dry, chapped, or otherwise hampered hands.
My mom was in the car with me (which is where my tube ended up) and she tried Hand Food and loved it. I have to remember to get some for her. She kept sniffing her hands…ha! Check this out at Sephora on your next visit. There is a larger size available if you really want to go all in. It's 4.2 oz's and $12. Not bad!