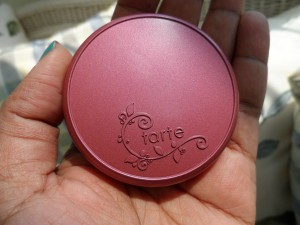 natural light/sunlight
I love Tarte blushes. I have Flush and Natural Beauty which I've reviewed and I love those two. This one I was a little worried about since it has some shimmer to it. I shouldn't have worried at all because its just about perfect like the others!
Blushing Bride is a plumy rose shade that looks a bit deeper in color in the pan than it does when using it. It looks almost burgundy in the pan to me. The shimmer is a nice touch. It's not overpowering and it really adds a nice glow like a subtle highlighter would. I find the fallout to be minimal and that's a good thing. The shimmer seems to be infused into the blush well.
The best thing about this blush and all the others I've tried is the lasting power. This lasts all day! I have an oily t-zone but normal/dry cheeks and this doesn't move or fade at all on me. Some blushes fade on my cheeks after 6 hours which sucks! I think this is a great fit for a variety of skin tones. At .2 oz.'s for $25 these aren't a bargain by any means. I think that they are worth getting because of the lasting power and goof proof application. A little goes a long way with these so I use a light touch and two strokes of my blush brush per cheek and I'm done.
I took some pics of Blushing Bride on my cheeks. I was a little more heavy handed than usual but you can see why I love it hopefully! I'm so glad the shimmer is so subtle. Good job Tarte!
Check out these beautiful blushes on your next shopping trip to Sephora or Ulta. I love swatching blushes before I buy them. So I'm a big believer in checking them out yourself before you buy. There are twelve shades available so pick one up!
Rated A