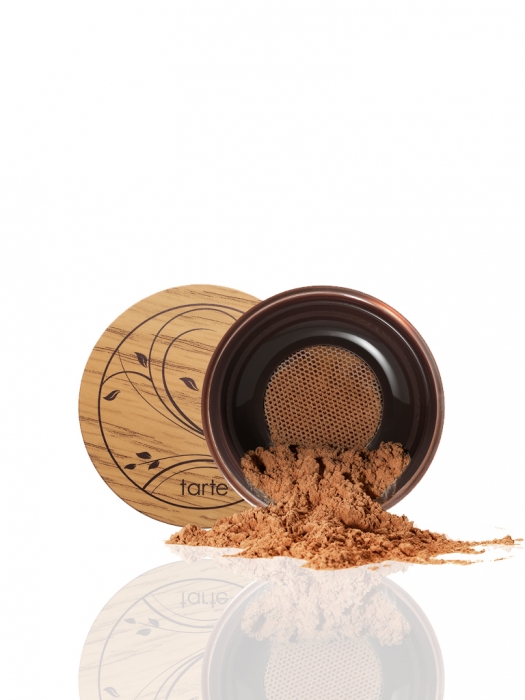 Tarte Amazonian Clay Full Coverage Foundation-Rich, $36
I am sooooo happy with this new foundation from Tarte! I had my doubts but with the first application I knew things were going to be alright. This foundation goes on easily and looks as natural as anything I've ever used. I am a big fan of Bare Minerals powder foundation but this has more coverage in my opinion and looks just as natural! It's amazing. If you've ever thought you weren't a good fit for powder foundation because the coverage wasn't full enough then try this! I can literally stack this on with the airbuki powder foundation brush. That's new from Tarte also, take a look!
I love this little brush, it's $26 when purchased alone. I layered (for better coverage over skin discoloration) the powder foundation on over my trouble spots and it just looked fantastic. In fact I found myself after the first few days only using a little concealer under my eyes. I didn't need to use concealer on my chin. Why do I always take "hits" on the chin when it comes to blemishes? Geez its always either there or right between the eyes!
Anyway as far as lasting power I'd say I can go a good 8-10 hours without a touch up if I use this with one of my favorite oil stopping face primers. Without it I need to pat down after 6-7 hours or so but in the heat of August thats not bad for this greazy t-zone girl. This is gonna be amazing for my skin during the Fall/Winter season. I don't feel it will be too dry for me when my skin changes. I get super dry cheeks and my t-zone is rather normal. It's the happiest time of the year for me trust that!
I wouldn't be me if I didn't tell you how I got this and saved a ton on the brush. There are maybe ten foundation shades available at my local Ulta store. On QVC they have six shades available. BUT….at Ulta the foundation is $36 and on QVC's website you can get the foundation and brush for $40. If at all possible get this from QVC,  the brush is worth it! Especially if you want to get the full coverage effect. The shade I got (it says Rich on the bottom) is referred to as Deep on QVC for some reason. I don't get that but thats what came in the mail. I went to Ulta to swatch and called QVC after and asked if the Deep shade was really Rich and they didn't know. I was so glad when I opened it up because it was the right shade. Confused much?
I also tried this out with a fluffy powder brush and a more dense-packed brush and the results were good. The coverage was lighter with the powder brush which is fine if your just running out the door. As a person that doesn't usually love full coverage I like having that option. There is a sifter inside to keep things as neat as possible and the top of the product fits into the pot tightly so your powder doesn't come out when your transporting this.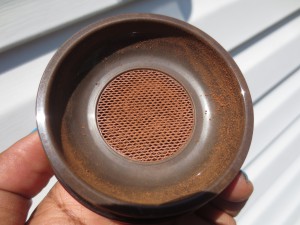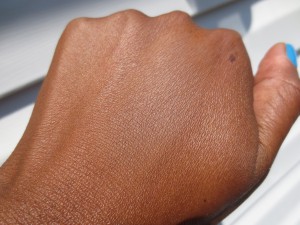 I doubt you can see the swipe of foundation in the center of my hand very well in the picture above. Feel free to blow the picture up by clicking on it if you'd like to take a better look.
Whew…I've said enough about this so check it out if you want to and let me know how it goes! I've been wearing this in the last few YouTube videos I've done and I love the way it looks!