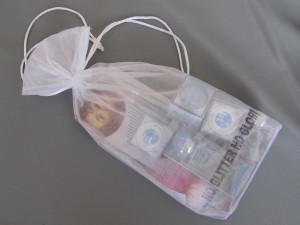 Isn't this the cutest bag, I love the tagline on the front…"No Glitter No Glory". Lit Cosmetics has great glitter, in fact xSparkage has been doing posts lately on her blog and different looks using their products a lot lately. This kit comes with everything you need to get started if you LOVE glitter! Here are some more pictures….
Inside the bag are directions, two brushes (liner and round brush), a 1 oz. Glitter Base Clear Liquid bottle, and three glitters. The colors are Punk, Gunsmoke, and Soul Sister. I picked three amazing colors if I do say so myself! If you'd like to see them up close check out the Lit Cosmetics website. This kit is around $60 so one lucky winner who loves glitter is in for a treat!
Giveaway ends on September 2nd!
Rules:
1-The winner will be a Facebook friend or Google Friend so Like Us on Facebook if you haven't already-you can do that on the right side of this website. We are on Facebook as crystalis007.com.
OR you can be a Google Connect Friend that's on the front right side of the site also under the YouTube video box-if there is an error message type in www.crystalis007.com again in your browser. A fresh page usually gets rid of that error message.
2-Comment/Leave a Reply on this post ONCE and let me know what your favorite eyeshadow color is. Mine is purple!
Make sure you leave the best email address to reach you at in the Mail: Will not be published/required area. Ok? Only I can see your email address if you put it in that area.
3-One entry per person, international readers welcome. I have to mail this to you, only enter if that's ok!
I'll contact the winner on September 3rd by email or Facebook privately!
Good luck everyone!