Makeup storage is a huge issue. I'm not the most orderly person so I really like it when I can use something that makes it look like I'm very neat! I thought I'd show you a great way to store your makeup and show you how I put together some of products in the eDiva Princess. One of the greatest things about eDiva organizers is that you can pay for a unit outright or monthly. The one I'm going to show you is $267 so you can pay for that up front or break it up and pay $89 for three months. They ship your organizer to you after you make your initial payment. That's a great option if you don't want to shell out the full amount for an organizer at once. The smaller five drawer unit is $199 which works out to three payments of $66. I don't have to remind you how crazy I am about QVC's Easy Pay system do I? Well consider this an Easy Pay makeup organizer!
The eDiva Princess is the larger six drawer organizer available on the ediva.com website. A smaller size is also available if you feel like you need five drawers instead of six. I have no trouble filling up six drawers. That's a huge surprise to you I'm sure:) Anyway the great thing about getting your makeup set up inside the eDiva is they send along dividers that you can use to section off areas of your individual drawers. Please take note of those dividers when you look at the following pictures. They are clear like the Acrylic base and drawers of the organizer. The ones that are included in my model work for the larger drawers of the unit. Here's a picture of them on top of my organizer. They are sealed in plastic so thats why they look a little cloudy (not perfectly clear) in the picture.
Let's get to the pics! I'll start with the bottom drawer and work my way up to the top of the organizer.
I have my new Essie, Zoya, and Wet n Wild polishes in the bottom drawer.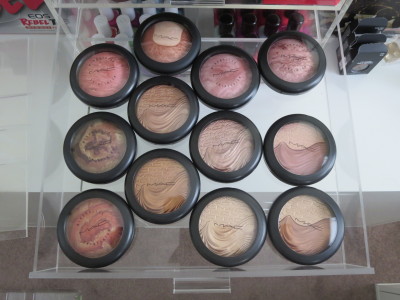 Here are some of my favorite Mac Mineralized Skin Finishes.
In this drawer I put some of my most used cream eyeshadows as well as powder eyeshadows.
I am a huge Le Metier de Beaute fan and I was able to store all my lip and eye kaleidoscopes in this drawer.
 A whole drawer of Wet n Wild eight pan palettes. I was able to fit two palettes (I put them into each section at an angle) into each section. I really could have fit four into each section if I wanted to. Aren't the dividers really useful? I love them.
The top of the organizer is see through. I was able to fit a variety of my most used items. I use a lot of these products often so I wanted them to be easily accessible.
Here is a picture of the eDiva Princess from the front so you can see how deep each of the six drawers are.
I am in love with this thing.
I can tell you the acrylic base unit and drawers are very thick and durable. I don't think there will be much upkeep with this either. Please check out ediva.com if you want to look into this further. There are plenty of pictures, videos, and other information on their website to help you determine if this is something you'd like to make use of for your makeup stash. I think I'm going to enjoy having this Princess on my counter!