New York Color Grand Central Station #202, $1.99 at CVS
I've been a die hard Seche Vite top coat user for years. I have tried so many things and I always go back. But this time….I may never go back. I read about using this as a top coat from one of my favorite blogs Nouveau Cheap. During the week that her post went up there was a 40% off sale on NYC products at CVS. I picked up two bottles to give Grand Central Station a try. I had high hopes but wasn't sure how something could compare to my favorite top coat ever.
But it was love at first swipe! Grand Central Station goes on like a dream. It's just the right consistency for me to be a able to put it on very quickly and it dries in a short time as well. And the shine….girl the shine is fantastic! I love this stuff and I really recommend trying it. CVS had a buy one get one 50% off sale recently and I got two more bottles! This stuff is worth a try if you like a shiny long wearing top coat that won't cost a mint.
My manicures are holding up for a good week or more with this top coat and my nails look unbelievably shiny!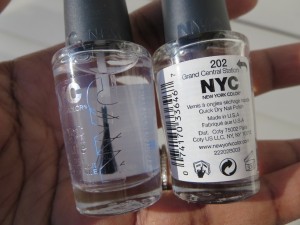 Try this if you haven't already! And of course let me know if you already have.