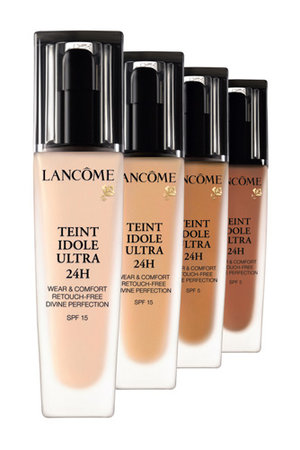 There is a serious buzz about a new Lancome foundation lately. I went to Nordstrom to check it out today. I got color matched (Suede 520, $44 a bottle!!) and came home with a nice large sample to try out for a few days since they didn't have my color in stock. They are going to ship my shade to me so hopefully the color is just right. It looked great inside and outside the store.
Here are some details taken from the Lancome website on this new foundation.
24-hour wear for divine, lasting perfection
Following 8 years of research, Lancôme unveils its first 24-hour wear foundation for lasting perfection.
With its new EternalSoft technology, Teint Idole Ultra 24H defeats all challenges. Complexion stays perfectly flawless and unified. Never cakey.
24-hour divine comfort
In perfect affinity with the skin, Teint Idole Ultra 24H is irresistibly comfortable. Its new, blendable and fresh texture leaves the complexion perfectly smooth, velvety matte with no powdery effect.
Result
The full coverage you need – flaws, pores, redness and all imperfections visibly disappear. The velvety finish you love for 24-hour lasting perfection and comfort. Full coverage. Velvety matte finish with no powdery effect.
Oil-free. Fragrance-free. Transfer-free. Non-comedogenic. Tested on sensitive skin. Tested under dermatological control. Patent pending.
I'll let you know in a review if this foundation is a good fit for me. I tweeted a picture while I was at the store of the display. They have an amazing amount of different shades for this foundation. Here is the picture in case you don't follow me on Twitter.