I got into a discussion about the best pencil eyeliners that don't move with a new beauty buddy (hi Glynis!) recently. This is a topic I feel verrry passionate about because I hate to look like a raccoon but I love lots of eyeliner! I like lining my water line and getting a product that doesn't migrate all over your eye area is essential. I had to pull photo's of my favorites because to tell you the truth all my actual liners are sharpened down to a few inches! I couldn't take pictures of them, they look sad and SHORT….anyway here we go!
Make Up For Ever Aqua Eyes approx. $17 with 25 shades available. This is my favorite period. It doesn't move and I will use it until I can't fit it into the pencil sharpener anymore! I have the shade Mat Black.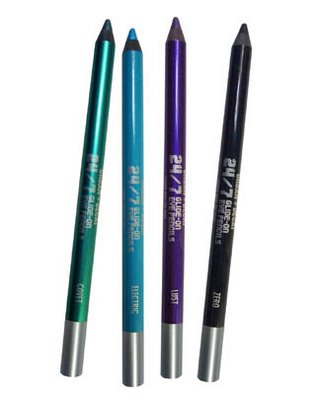 Urban Decay 24/7 Glide On Pencil $18 with 23(?) colors available. I love the consistency of this liner. It's creamy and smooth when applied but it doesn't move at all. I have the shades Zero which is black. This color is in many of Urban Decay's palettes so I have quite a few backups of Zero. I have Ransom, Rockstar, and Bourbon too. They have great colors!
Cover Girl Liquidline Blast $6-$8, there are 6 (or so) shades available. Now this one moves a little it's got a smudger on one end. But like the name implies it can appear to have a liquid liner finish. It's kind of glossy if you don't smudge it. Really neat! I think this one if my favorite drugstore liners because of the smooth application and the PRICE! I have the black shade but there are some beautiful colors they make that always catch my eye at the drugstore. I have a few drugstore liners that I want to try but this is my favorite so far.
Who makes your favorite pencil eye liner? Do tell!