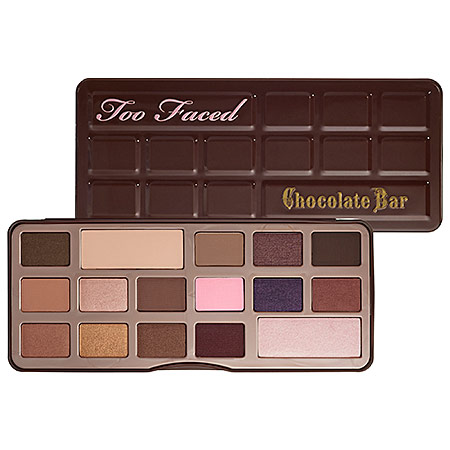 Too Faced Chocolate Bar Eye Palette, $49 at Sephora
I love chocolate and this palette is just as good as my favorite Dove bar only it will last longer!
Besides being really cute these shadows are just about perfect. I was so happy with the A Few of My Favorite Things Palette and this is the perfect follow up. I love a nude-ish palette as I'm sure you've noticed but this is a colorful twist on one. I feel like this palette answers the question what shadow shades work best with bronzy/gold nudes?  The answer is a little purple, burgundy, and don't forget to add a few mattes in the mix!
I picked this up from Sephora online and am so glad I did. There are quite a few matte shades (yay!) and some amazing shimmers. Fall out is not bad and blending is easy! Too Faced you must continue knocking these types of palettes out…I'll be picking them up promise.
Lets take a look at swatches. Click on a pic to see the shades up close!
Gilded Ganache, White Chocolate (left)
Salted Caramel, Marzipan, Semi-Sweet, Hazelnut, Creme Brûlée, and Haute Chocolate
Cherry Cordial, Champagne Truffle (far left)
Milk Chocolate, Black Forest Truffle, Triple Fudge, Strawberry Bon Bon, Candied Violet, and Amaretto
Just beautiful!
I'd say my favorite shadows are Cherry Cordial, Gilded Ganache, Semi-Sweet, Salted Caramel, and Haute Chocolate. I have a lot of favorites. I am not in love with Strawberry Bon Bon, Champagne Truffle, and Black Forest Truffle. I think Black Forest Truffle is such a pretty shade but it has more fall out than the other shadows. Candied Violet has a similar texture but seems to hold together or stay put a little better than Black Forest Truffle. I almost always do my eyes first so I clean up my under eye area with a makeup wipe.
Check this palette out. I think if you swatch it you'll know if its right for you. And guess what else this palette has going for it….IT EVEN SMELLS LIKE CHOCOLATE! You read that right it smells like a chocolate bar. Too Faced Cosmetics, I salute you. Best idea ever.
From Sephora.com:
What it is:
A sweetly tempting array of 16 matte and shimmer shadows scented with real chocolate.
What it does:
This beautiful assortment of chocolate-inspired shades were formulated using real cocoa powder. Encased in a playful chocolate bar tin, the rich selection of the perfect browns, neutrals, and little pops of color appeal to every candy lover.
This set contains:
- 0.03 oz x 14 Eye Shadows in Gilded Ganache, Milk Chocolate, Black Forrest Truffle, Triple Fudge, Salted Caramel, Marzipan, Semi-Sweet, Strawberry Bon Bon, Candied Violet, Amaretto, Hazelnut, Crème Brulee, Haute Chocolate, Cherry Cordial
- 0.10 oz x 2 Eye Shadows in White Chocolate, Champagne Truffle
- How To Glamour Guide
What it is formulated WITHOUT:
- Parabens
- Sulfates
- Phthalates
What else you need to know:
Too Faced Co-founder and Creative Director Jerrod Blandino learned of the healing properties of cocoa while getting a chocolate facial in Maui. With Chocolate Bar he created a first-of-its-kind palette that combines the healing benefits of chocolate with richly pigmented, velvety smooth shadows. Chocolate has been used for centuries for its soothing properties and to protect, condition, and heal skin that has been damaged by sun and wind. Studies have shown that the scent of cocoa powder can increase memory and brain power.