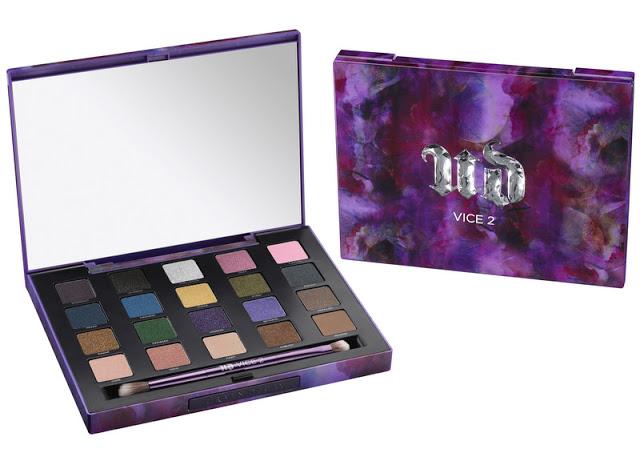 Urban Decay Vice 2, $59 at Sephora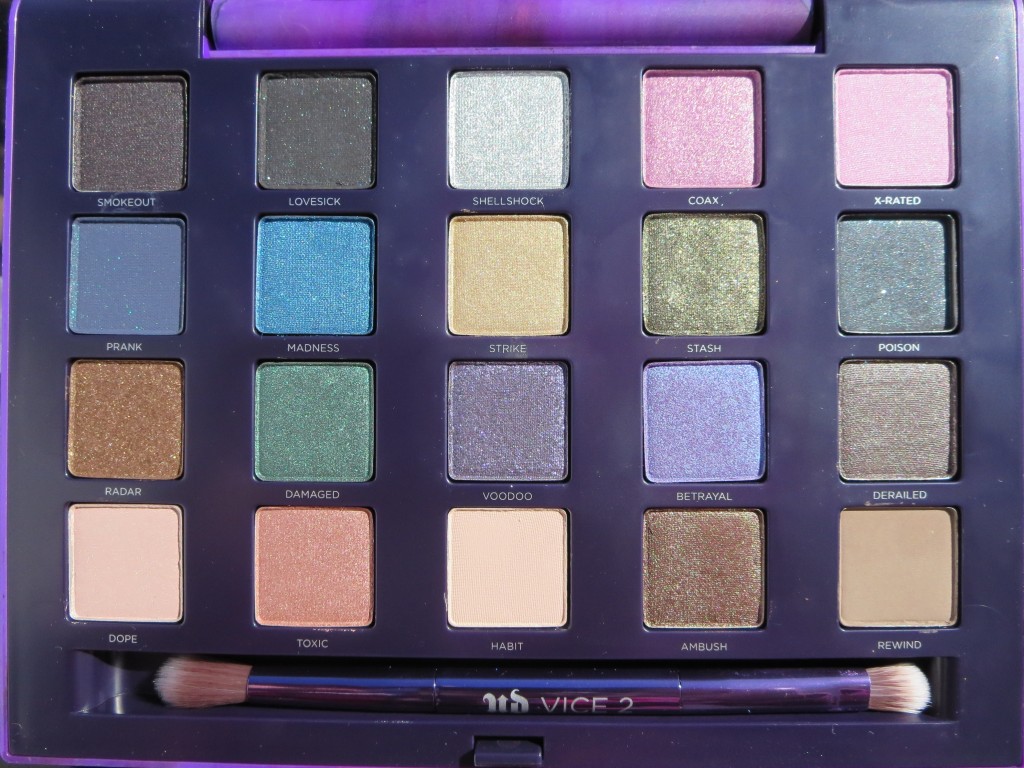 This palette is full of pretty shadow shades! I got the original Vice Palette last year and liked it. I've had the Vice 2 since September I think and I will tell you that I like this better than the original!
Let's take a look at the swatches. I did these swatches without primer. Please feel free to click on a picture to make it larger!
Smokeout, Lovesick, Shellshock, Coax, and X-rated
Prank, Madness, Strike, Stash, and Poison
Radar, Damaged, Voodoo, Betrayal, and Derailed
Dope, Toxic, Habit, Ambush, and Rewind
Overall this is a very nice palette. I love a lot of the shades. Nobody does amazing green, blue, and purple shadow shades like Urban Decay! The only disappointing shades to me were X-Rated its a bit chalky and Stash because its a little on the chunky side and gave me some serious fallout under my eyes. There are a few shades that aren't my thing like Betrayal and Dope but I can't really say anything bad about them payoff or performance wise. They just aren't my type of shadow shades.
The best in my opinion are Smokeout, Damaged, Ambush, Radar, and Derailed. Habit and Rewind are nice matte editions to the palette and really usable. I do wish there were more matte shadows in this palette. If you want a lot of shadow in one place check out the Vice 2!
From Sephora's website:
What it is:
A luxe, sophisticated, limited-edition palette loaded with 20 eye shadow shades.
What it does:
For fans that missed out the first time (and beauty junkies craving their next fix, Urban Decay has launched this palette packed with unbelievably gorgeous eye shadow shades. Experiment with insanely cool brights, not-your-average neutrals, and sexy hits of smoke, all in Urban Decay's decadent, revamped formula.
This set contains:
- 0.03 oz x 20 eye shadow in: Smokeout (dark taupey-black satin), Lovesick (black matte w/iridescent micro-glitter), Shellshock (bright metallic silver), Coax (medium metallic pink w/golden iridescent micro-sparkle), X-Rated (baby pink satin), Prank (deep navy matte w/turquoise floating pearl), Madness (bright metallic blue shimmer w/blue micro-glitter), Strike (antique gold shimmer w/silver micro-glitter), Stash (deep olive green shimmer w/iridescent micro-sparkle), Poison (charcoal satin w/iridescent micro-sparkle), Radar (metallic brown shimmer w/iridescent micro-glitter), Damaged (bright metallic emerald shimmer), Voodoo (metallic purple shimmer w/iridescent purple micro-glitter), Betrayal (bright purple satin w/blue shift), Derailed (medium metallic taupey-brown shimmer), Dope (warm champagne satin), Toxic (metallic copper-pink shimmer w/tonal micro-glitter), Habit (light nude matte), Ambush (metallic brown satin) and Rewind (medium brown matte)
- Full size double-ended Good Karma Shadow and Crease Brush
What it is formulated WITHOUT:
- Parabens
- Sulfates
- Phthalates
What else you need to know:
Each Eyeshadow features Urban Decay's Pigment Infusion System™, the proprietary blend of ingredients that gives every shade its velvety texture, rich color, serious staying power and blendability.
Vice 2 is drenched in a pretty-but-edgy, abstract orchid design that's applied with a special process—so no two palettes are exactly alike—and topped off with a gunmetal jeweled UD icon. With the touch of a button, the case opens slowly to unveil all those gorgeous shadows, along with an oversized mirror and a double-ended Good Karma Shadow and Crease Brush.