Clinique Chubby Stick Intense-Mightiest Maraschino #03, $17
I got this amazing Clinique Chubby Stick as an add on bonus to a recent Sephora order. I was excited to get such a great sample size for free but I was even more pleased after trying this color on my lips! Mightiest Maraschino is a beautiful deeper pigmented red and as a bonus it's super moisturizing on the lips!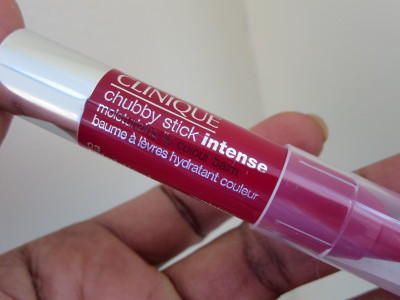 The color is intense and it's going in my purse. I love that you don't need a liner with this. You can line your lips, fill them in, and be set for hours! It twists up from the bottom so you don't need to sharpen this Chubby Stick at all. And the color! It's a sophisticated red and perfect for Valentine's Day. It's a grown boss lady red!
From the Nordstrom website:
Tempt lips with a soft cushion of color that's not quite sheer, not quite opaque – just the perfectly happy medium. Loaded with mango and shea butters so lips feel comfortably soft and smooth. In a variety of shades.
How to use: Apply directly to lips. For subtle definition outline lips first, then fill in. Never needs sharpening, simply swivel up to reveal more lip color balm.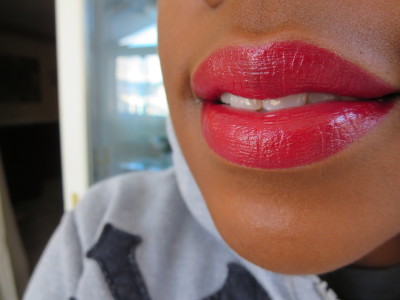 Mightiest Maraschino stays put for a good four hours plus on me. It's a thin textured yet powerful formula. It looks nice and feels like it's packed with moisture but the pigmentation is the star. This color also doesn't do a nasty fade out. Don't you hate it when a lip shade makes you look like a crazy person after it fades down? I had a lip color on a few weeks ago and only the edges survived on my lips after three hours. I looked like I ate a huge sub and just didn't care enough to touch up my lip color. I was not happy. I hadn't eaten anything! I just looked crazy!
There isn't a smell or odd taste and there are plenty of other colors to choose from if you think you want something other than red. I've seen these at Sephora, Ulta, and Nordstrom so they are worth swatching on your next visit. I was in Sephora the other day and made sure Mightiest Maraschino was available because once my sample runs out I am going to want another. I just know my mama is going to snatch this if she ever sees it. This is her favorite type of red.
Here are a few of the other colors! Check them out. I might have to take a look at Grandest Grape next time I see these at the store.