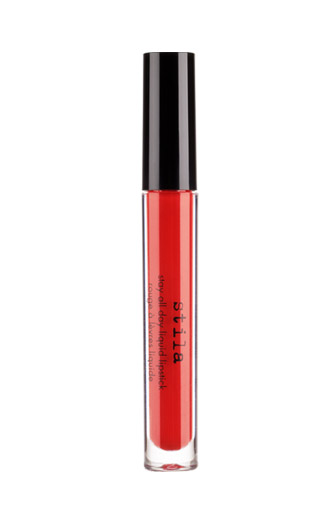 Stila Stay All Day Liquid Lipstick Beso, $22
It's an awful cloudy stormy day here but my lips are the brightest thing in the room everywhere I go! Stila's pretty Beso Liquid Lipstick is a bright classic red and yes y'all its straight up FIRE!
I wasn't quick to give this a try because its a matte lip product. In the past not many matte lip products have worked out for me. So I got a sample in a Sephora order and it sat around for a while but once I pulled it out there was no going back. This liquid lipstick is really good. It's not for everyone but its good for me! There are ten colors so of course I'm thrilled to check out the red first….
From the Stila website:
A creamy-matte, full-coverage lip color that delivers bold, long-lasting color and stays in place for up to 6 hours of continuous wear. 
The texture is weightless on lips and delivers superb comfort and its color-rich formula will not bleed or transfer. 
Enriched with Vitamin E and avocado oil, Stay All Day® Liquid Lipstick softens the lips so they look and feel beautiful!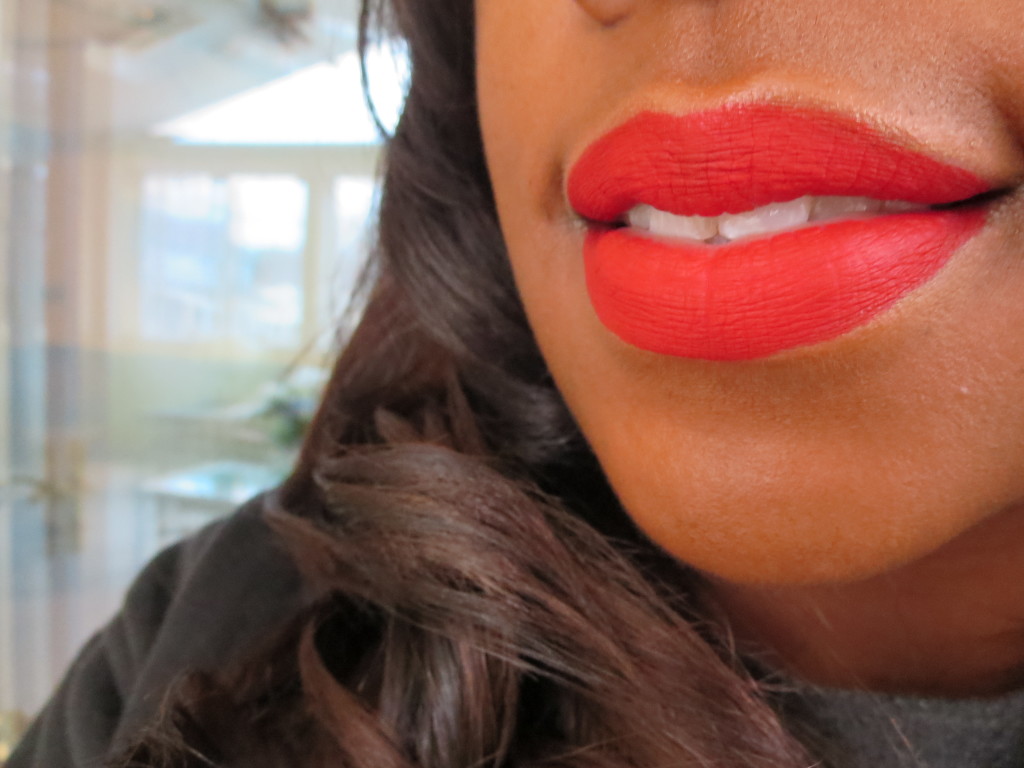 I was really worried about dryness. It turns out that wasn't much of a problem. Now I'd recommend using something like this when your lips are in good shape. I use balm whenever my lips aren't covered in gloss or lipstick and every night so I'm usually dealing with smooth unchapped lips. That's the condition you need your lips to be in for the most part. Beso goes on so smoothly. It's a really light weight formula. The applicator is a nice doe foot which is my favorite. There is no taste to the product but there is a really awful chemical scent that really made me think twice about slapping it on. I did and the scent goes away as soon as you start spreading the product on thank goodness.
Stila says these last six hours and the best I did wearing Beso was about five. I was really happy with how my lips didn't feel dry during all that time. The formula didn't bead up on me or crack/wear off which is fantastic. And there wasn't a tight uncomfortable feeling for me as the day went on either. I don't have to touch up after lunch either! If you love matte lip products you might want to get on this right away. Your lips set after the first few seconds and the product doesn't move. If you have trouble with your lip products staying on then get to the store and try one of these out quick! I could see myself getting the full size.
I'm really happy with Beso. It reminds me a bit of Ruby Woo!