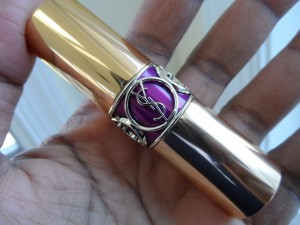 YSL Fuchsia in Rage #19, $34 (Sephora)
Favorite YSL lip shade ever. My review is done. Take that!
Just kidding. I don't have much to say though. I love this color like I love pancakes and it is what it is. If you haven't ever tried a YSL Rouge Volupte let me school you quickly. They feel great going on. Really moisturizing and buttery but….if you are looking for long lasting lip color this is not it. I reapply every few hours. After meals and drinking a coffee or soda forget it your going to need a touch up. But the fresh (fruity) scent and yummy taste keep me going through the day. I love this stuff.
The scent isn't very strong but the taste might annoy some. At $34 there is a lot of hate on these but I enjoy them. After having a few favorites though I must say that this is THE BEST. Check this sexy color out!
See how the color is coming outside my lip line on the right. This happens often to me because I love slathering this on so much. The texture is soft and it moves. Again if you like stay put/long lasting color you might not love this. Try it out at the counter to be sure. At $34 these aren't cheap! I don't notice a big difference between these and the other Rouge Volupte's that I own. The colors I have are all "shiny" too. But I love that there are new colors. A lot of new colors!
Get to the YSL counter or Sephora to see if there is a color for you. I know there is. Don't you wish it was $5? I do. I'd get 10!