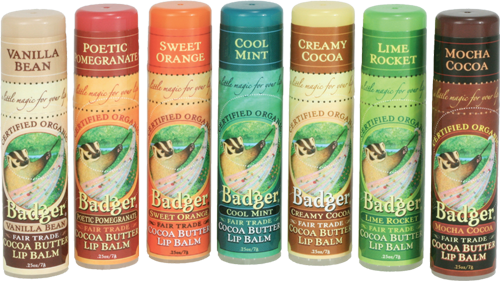 Organic Cocoa Butter Lip Balm by Badger, $5 each at Ulta
I have sore lips often especially in the Fall/Winter. It sucks and its not pretty. I use everything under the sun on my lips so it's my own fault. Since I got my hands on some Badger Balm (I love saying that!) my recovery time is shorter. I love cocoa butter and this lip balm cushions my lips beautifully. These balms are everywhere in my house now and it all happened fast. I have balm on my makeup vanity, bedside so I can put some on at night, in my purse, and in the car. This is really good stuff. My lips thank you Badger….
From badgerbalm.com:
A Little Magic for your Lips! These dreamy Cocoa Butter Organic Lip Balms come in larger .25oz sticks to provide soothing rich relief for dry lips! These creamy organic lip balms feature rich, Certified Organic and Fair Trade CertifiedTM Cocoa Butter, which has the sultry fragrance of dark chocolate. Our Cocoa Butter is traditionally processed at low temperatures, allowing the butter to retain its natural, health-giving properties. Flavored with all natural steam distilled essential oils – no artificial sweeteners or fragrances. We may be a little biased, but these are some of the best lip balms we've ever tried! (We think you'll probably agree.)
Directions for use: Rub lip balm stick on your dry lips and expect results! Can also be used to moisturize cuticles and other small dry patches in a pinch.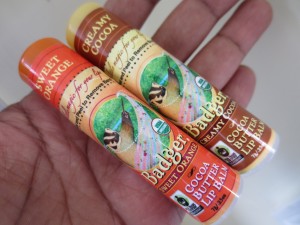 I love saturating my lips in something that is good for them. I notice a light scent (yummy chocolate!!) but no taste when wearing these balms. They go on smoothly and don't feel sticky but your lips feel nicely cushioned and moisturized. I am so glad I have these ready for winter. If you haven't seen any Badger Balms near you check their website store locator here. If you suffer with dry lips you need to try this. I'm so glad I did. My lips aren't a hot mess regularly anymore and I've been using my Creamy Cocoa and Sweet Orange balms for over a month. You know the ones that are all over my house?
Another thing worth noting is the finish. It's a natural not glossy look. My lips just look nice and moisturized not overly glossy. Sweet Orange and Creamy Cocoa (the flavors I tested out) have no color payoff either. Which brings me to something that you might already be wondering…this is a sure thing for MEN. My husband is getting one….just in case he needs it. Did you ever go out with a guy that had glossy lips? I have. It's not like I could concentrate on anything he had to say over dinner as you might imagine. Yuck. The only thing worse is chapped lips. To prevent either awful scenario get one of these for a man that goes out into the world and represents you.
If you live in the United States I'd love to send SIX of these amazing balms to you. I have two sets of six (three Sweet Orange & three Creamy Cocoa per set) so there will be two lucky winners that will win a lot of balm. Enough Badger lip goodness for you and your friends!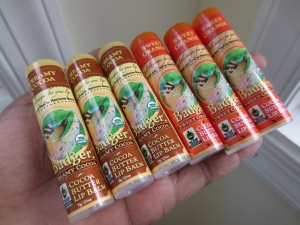 Please use the Rafflecopter tool below to enter and win!