I knew in the first fifteen minutes of the pilot episode that I liked this show. I watched it with my mama (who lived in Nashville most of her life) and she loved it too. The acting is good and the plot is even better.
Hayden Panettiere (from Heroes) is Juliette Barnes a rising country singer. She's a determined hard to love character in my opinion but fun to watch. Connie Britton (from Friday Night Lights) is Rayna James a 40-year old country western singing superstar that's career isn't going so well. These two don't like each other but I enjoy watching them try to further their careers.
I even like the country music they play throughout the show. It's not bad at all! Both of these ladies have a thing for Deacon. Isn't it funny how it always comes down to a guy with shows? Ha! Deacon is in the pic below…I must say I kind of get it.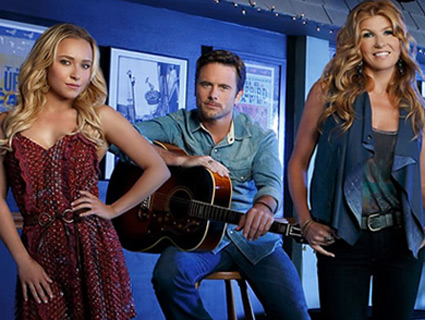 Hopefully this new show makes it. I think it's fun to watch and one of my favorite new shows this year. Let me know if you are watching this! I hate it when I get into shows and they get cancelled. I hope this doesn't happen to Nashville. It comes on Wednesday nights at 10pm on ABC.
Are there any other new shows you like this Fall that are good? I have a few favorites so far this year.  I like Arrow, Elementary, Last Resort, and Emily Owen's M.D. Please let me know if you have any favorites! I can still catch up on Hulu so let me know!