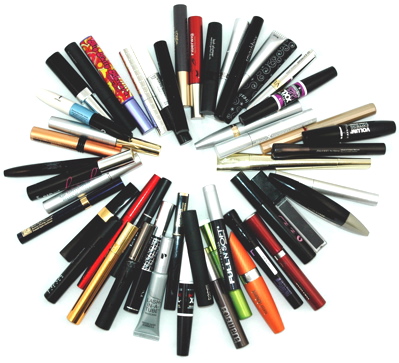 I love mascara and I have so many favorites. But what I want to know is…what are yours?
I have favorites from every price point. I think the great thing about mascara is that you don't have to spend a lot to get the results that you are looking for. A $7 drugstore mascara in many cases can outperform a $30 one. In my opinion thats fantastic and exciting stuff!
What are your favorites? I have a few drugstore holy grails like L'oreal Voluminous Carbon Black and Maybelline Colossal. Then there are newer (to me) favorites like Almay Get Up and Grow and Covergirl Clump Crusher. Some mid to high end favorites are Armani Eyes to Kill Excess, YSL Faux Cils Shocking, Dior New Look, and Benefit They're Real .
One of my new favorite combo's is Bare Minerals Curl & Lengthen and Volumizing used together. I did a quick video on it, check it out here if you haven't already. Bare Minerals mascaras are going to be 50% off tomorrow at Ulta (3/23-online also!!) so it's a great time to try them out at $9 each:
So what are your favorites? Let us all know and if you don't mind let us know why!