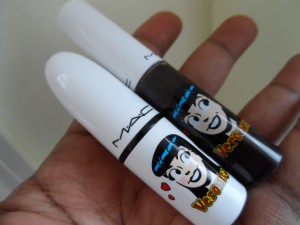 Mac Boyfriend Stealer Lipstick & Feelin So Good Lipglass ($16.50 each)
So many people asked me about this combo and I must say I love it! Boyfriend Stealer is a deep eggplant like lipstick shade (cremesheen formula) that looks beautiful on its own but add Feelin So Good to it and it's fire!
Take a look at Boyfriend Stealer by itself on my lips.
It's a fun deep shade. Not something I'd use everyday but something I'm inventing excuses to wear. That's love…
To take it up a notch add Feelin So Good lip gloss and bam you've got a fierce little pair of smackers!
I'm going to wear this the next time I get work done on my car. This screams don't mess with me and overcharge me buddy…or I will…cut you. Ha! Seriously this is comfortable to wear but it does require a little babysitting. You don't want to leave this on coffee cups or eat a burger with this on.  Touch ups are needed but this is a pairing that makes a statement. I love it:) I must add though that Feelin So Good is kind of annoying when used alone. It just doesn't work on me.
In daylight it even glows…just beautiful!