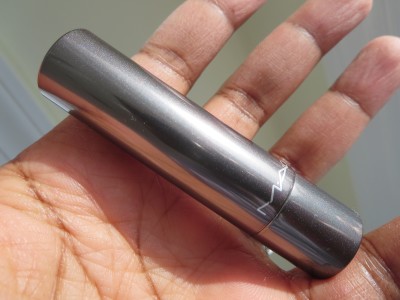 Mac Huggable Lipcolour in Cherry Glaze, $20
I reviewed Commotion a pretty plummy Huggable Lipcolour recently. Next up is Cherry Glaze a beautiful red/orange stunna! This one is orange fire in a lippie so let me get right to the point-the pics!
I love how bright and beautiful this shade is! And the formula….it's moisturizing and really comfy. I usually go for colors like this in Spring/Summer but nows as good a time as any I figure. It's limited edition I think but they need this to be a permanent part of the line. It's too beautiful for everyone to miss out on. Why is everything amazing taken away too soon? I hate that.
Check out the Huggable shades while they are around. I think if you love a lipstick with moisture and color in an even mix this might be the right formula for you! They are claiming six hours of wear which I don't get. More like 3-4 in my case. But for an almost balm like texture with pigmented color I'm not hating on this one. It's an A+ product in my book.
Have you picked up a Huggable? Do tell if you want it or think it's a skip!